<div style="background-image:url(/live/image/gid/20/width/1600/height/300/crop/1/40780_31484_finance_1.rev.1513697699.png)"/>
<div style="background-image:url(/live/image/gid/20/width/1600/height/300/crop/1/40467_Speednetworking2_edited.rev.1510942416.jpg)"/>
<div style="background-image:url(/live/image/gid/20/width/1600/height/300/crop/1/29606_internships_and_experience_1.rev.1448900255.jpg)"/>
<div style="background-image:url(/live/image/gid/20/width/1600/height/300/crop/1/40779_31485_business.rev.1513697684.jpg)"/>
<div style="background-image:url(/live/image/gid/20/width/1600/height/300/crop/1/35592_shot02-041_v2.rev.1487090405.jpg)"/>
<div style="background-image:url(/live/image/gid/20/width/1600/height/300/crop/1/40783_law.rev.1513697721.png)"/>
<div style="background-image:url(/live/image/gid/20/width/1600/height/300/crop/1/40782_science.rev.1513697713.png)"/>
<div style="background-image:url(/live/image/gid/20/width/1600/height/300/crop/1/40469_Speednetworking3_edited.rev.1510946462.jpg)"/>
<div style="background-image:url(/live/image/gid/20/width/1600/height/300/crop/1/40781_art.rev.1513697706.jpg)"/>
Forester Micro-Mentorship Program
A unique opportunity to engage Foresters through the intersection of mentoring and micro-internships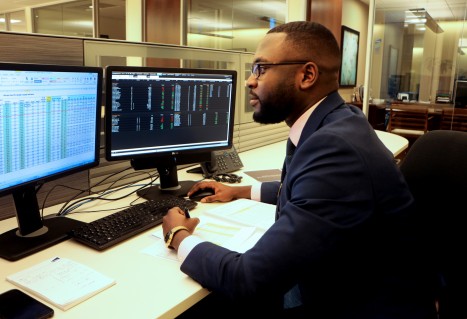 Students and recent graduates can help your organization through micro-mentorships by providing support for professional tasks much like traditional interns, but without the commitment of a semester-long experience. They are also a low-risk way for your organization to get exposure to a diverse pool of potential hires.
The Forester Micro-Mentorship Program is designed for you to provide both mentorship, sharing insight regarding your profession and job search advice, as well as a virtual/remote micro-internship project (approximately 20% mentorship and 80% micro-internship experience).
These micro-mentorships typically range from 20 to 50 hours for a duration of two to six weeks. Unlike traditional internships, micro-mentorships will be funded by generous donors to the College, who annually support internship funding. Upon successful project completion, students will receive stipends of $300 for 20-30 hours and $500 for 40-50 hours. Stipends will be based on the estimated hours of the project that is provided in the job description.
A limited number of micro-mentorships are available for each term that they are offered.
Sample micro-mentorship projects:
Creating a social media calendar for your organization
Cleaning and organizing data
Conducting a SWOT or other analysis on your organization's products or services
Generating sales leads
Researching new processes or software to support your operations
Assisting with grant writing and scientific writing projects 
Collecting survey or qualitative data and organizing datasets for analyses 
Provide research support in developing curatorial projects or exhibitions
Contributing to fundraising efforts that include event planning, social media posting, and donor prospect research
Micro-mentorships are an opportunity to help a Forester.
As a micro-mentor you will:
Interview candidates and select individuals that are the best fit for the project-based work and mentorship.
Engage students as they assist with a project, giving meaningful feedback, and development as a professional. 
Allow students to tap into your existing knowledge of industry experience as they progress in their career search.
Micro-mentorships are beneficial for both students and your organization.
Micro-mentorships will provide your organization with:
A completed short-term project or 'deliverable'
An opportunity to mentor, lead, motivate, and teach students about careers as well as the internship and job search process
Generated interest in a particular industry among future generations of employees
The development of a potential pipeline of candidates from qualified applicants
Marketing and name recognition in the community as well as at Lake Forest College
An opportunity to collect new perspectives and ideas from students regarding processes, organizational branding, technology, new trends, and more
Micro-mentorships help students:
Gain skills and experience that will be helpful for entry-level positions
Explore career paths and get exposure to organizations and industries
Develop their network
Participate in an internship they otherwise may not have been able to due to course schedules, prohibitive costs, housing, and other factors 
Interested in the Micro-Mentorship Program?
Read more on our Program Details page.
To get started with the micro-mentorship process, please fill out our Micro-Mentorship Proposal Form or contact the Career Advancement Center at careers@lakeforest.edu. 
Micro-mentorships will be reviewed for approval based on project content, applicability to student skillsets, mentorship capacity, and funding availability.