Modern Languages and Literatures News and Events
French Table activities

Professor Wu takes students to Moon Festival at Northwestern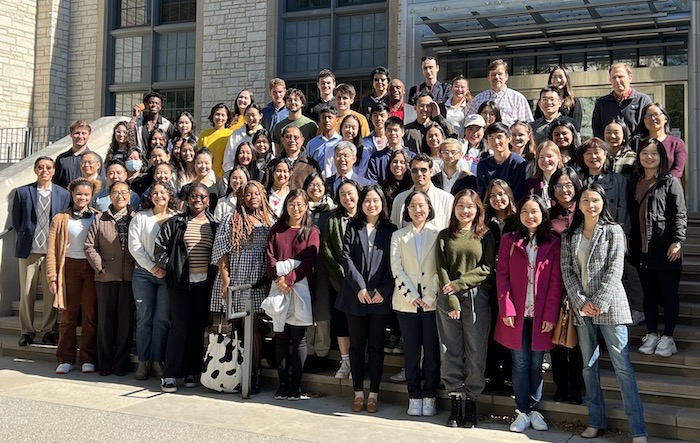 Professor Ying Wu led seven students to participate in the Moon Festival event hosted at Northwestern University on Saturday, Oct. 1. Seven Universities including the University of Chicago, University of Illinois Chicago, Loyola University, DePaul University, North Central College, Lake Forest College, and Northwestern University participated the event. Students got to socialize with others in Chinese and enjoyed the talent show and Chinese traditional food. Trang Do performed the traditional Vietnamese dance, and Roathnika Lim sang a Chinese song in the talent show representing our college. 'It was such a great opportunity to get to know so many people and celebrate Chinese tradition.' said Edward Aguliar.
African Dinner
Professor of French Cynthia Hahn organized an event held on 9/19/22 in Calvin Durand Hall, including an African dinner (Saladu Nebbe - Senegalese Black Eyed Pea Salad, Kansiyé, Nigerian Jollof Rice, Dodo), for over forty students and faculty, followed by a conversation on life and the role of music in Guinea (West Africa) with Director of the College's West African Drumming Ensemble and Chamber Group, Helen Bond, and guest performer and drum maker from Guinea, Fode Camara. Mr. Camara introduced himself in Sussu, French and English, and stressed the importance of education and preserving cultural identity. Professor Bond told the story of her travels to Guinea to learn the music over the past two decades and the creation of her NGO, Motherland Rhythms, to provide clean water for Guineans (70,000 so far), working with Fode Camara as the principal on-site project manager.
The student organization, UMOJA, created and performed a wonderful mixed traditional and modern African dance, incorporating Guinean movements. Prof. Helen Bond, Mr. Fode Camara, Prof. Cynthia Hahn, two alumni and some of Helen's current drumming students demonstrated four traditional Guinean rhythms for the audience members, who were invited to accompany performers on traditional Guinean drums (djembe, sangban, dunuba, kinkini, krin). The well-attended and lively event was sponsored by the Department of Modern Languages and Literatures, the Christopher C. Mojekwu Fund for Intercultural Understanding, UMOJA and French Club.
Watch a brief clip of the event
Little Girl (Petite Fille) film screening
French professor Cynthia Hahn organized a screening of "Little Girl" ("Petite Fille"), a prize-winning 2020 French documentary film on gender dysphoria, directed and written by French director Sébastien Lifshitz, on 9/14/22. The event was well-attended and post-film discussion with the audience was animated by Professor Hahn (French), Professor David Boden (SOAN), and Psychology professors Susan Long and Ben Swerdlow.
Phi Sigma Iota inducts 11 new members this year!
Eleven new members were inducted into the Mu Chapter of Phi Sigma Iota—the international foreign language honor society. A special ceremony was held in Carnegie Hall on April 13, 2022. Phi Sigma Iota is the highest academic honor in the field of foreign languages.
French and English creative writing double-major Kaity Mueller presented her senior research project under the direction of Professor of French Cynthia Hahn on "Poetry Across Cultures" at the Student Symposium panel, "Interpretations of Art". Her presentation included description of the process of translation as taking on an author's voice, by examining style and cultural context in the work of three Francophone poets: Andrée Chedid (Egypt/France), Cécile Coulon (France) and Clara Lagacé (Canada)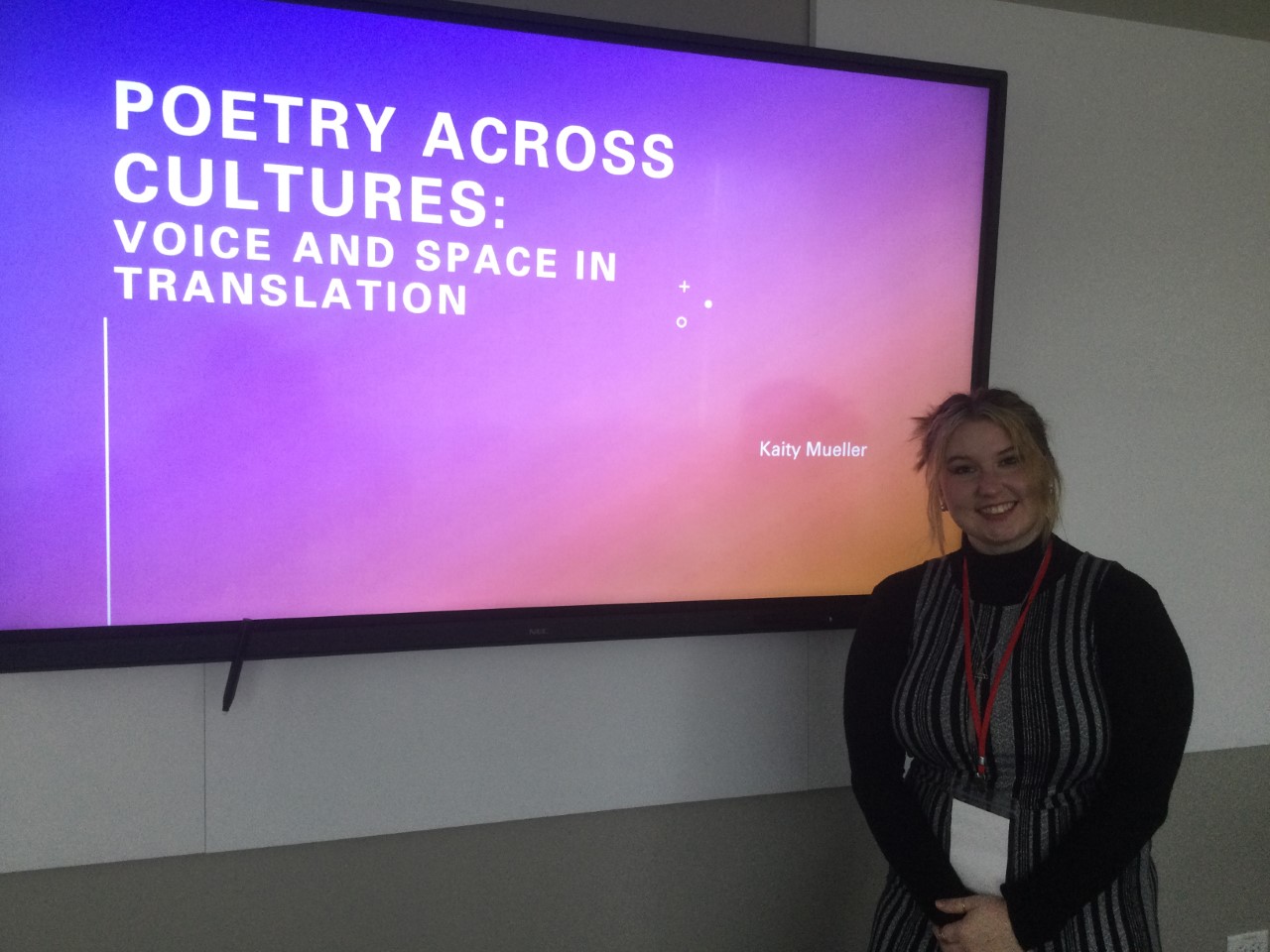 Collage Foreign Literary Magazine was presented at the 2022 Student Symposium. We had nine students present their work in various languages such as Chinese, Spanish, French, Arabic, and Polish. We also got the chance to congratulate and present our art contest winner at this event. We were overwhelmed by the amazing turnout and are thankful to all those who showed up to support the participants. The magazine will be published soon so look out for that!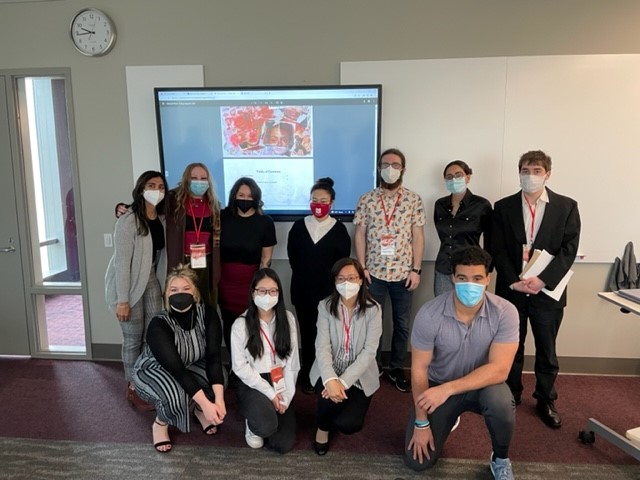 Bolivian author Cristina Zabalaga visited Professor Meneses's class SPAN 325: Latinx Literature and Culture to discuss her short story collection, Nombres propios.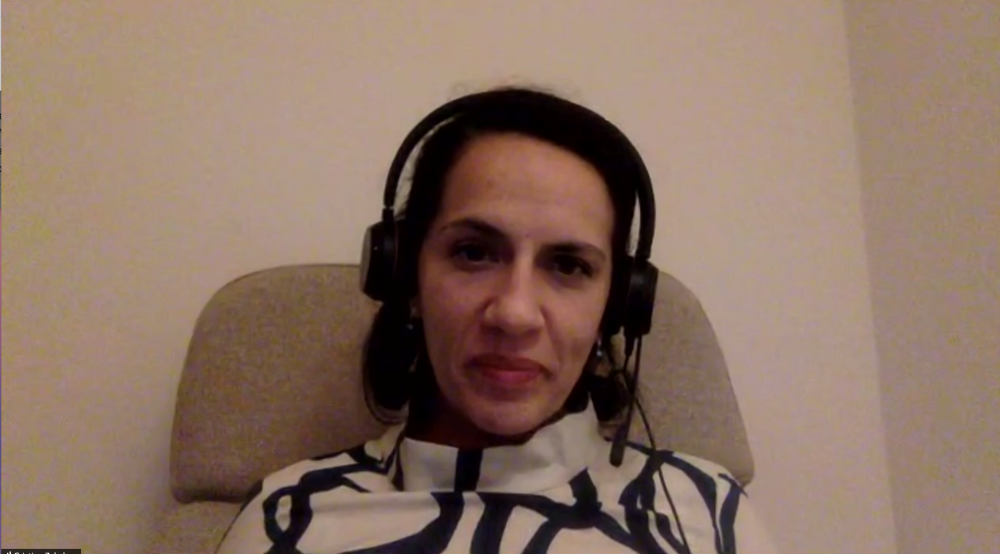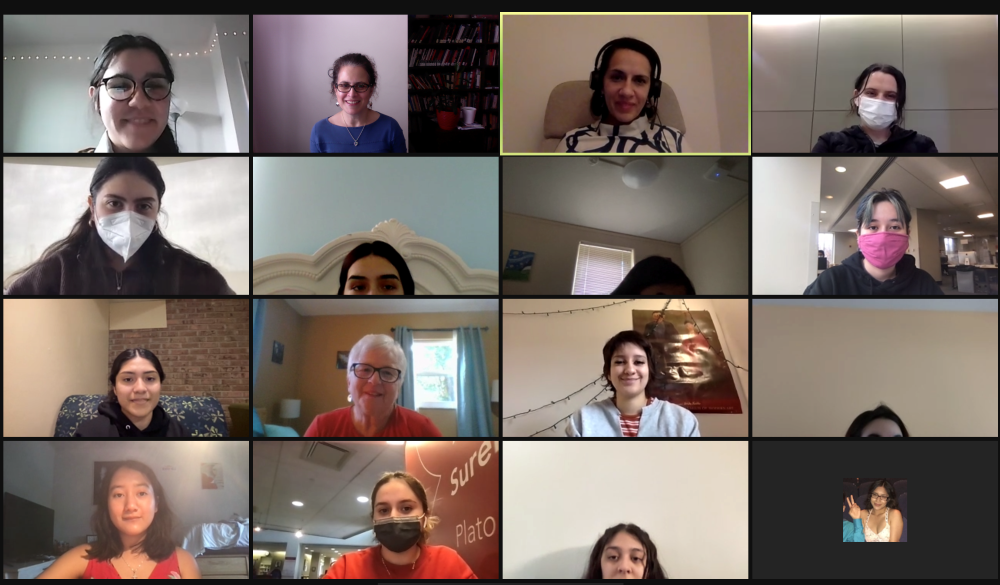 2022 Alumni Career Panel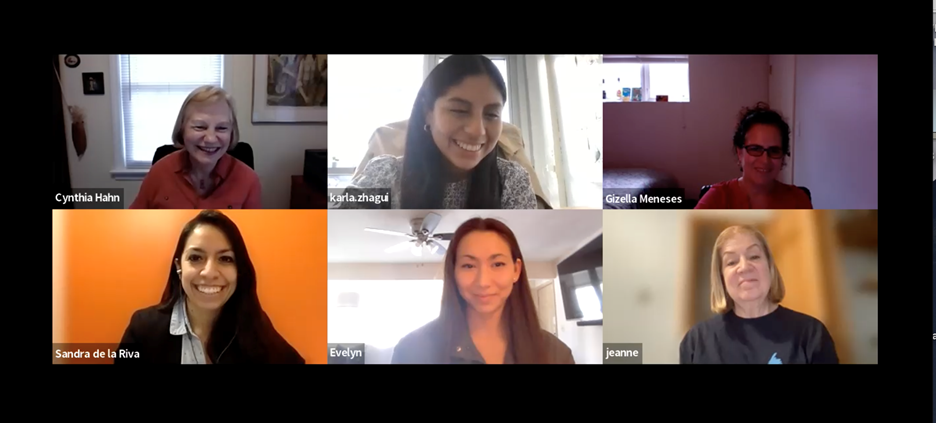 The Department of Modern Languages and Literatures hosted its annual Alumni Career panel on Zoom this March. Panelists Sandra de la Riva, Evelyn Johnson, Karla Zhagui and Jeanne Engelkemeir spoke about the importance of pursuing one's passion, adding language competence, along with the study of literature, internship opportunities and study abroad to a variety of careers and advanced study in Education, Business, Entrepreneurship, Literatures and Cultures, International Relations and Crisis Management. They stressed being open to possibilities not considered before, learning from failure, and the importance of networking, underscored by comments from Jennifer Lazarus in the Career Advancement Center.
The Department of Modern Languages and Literatures is co-sponsoring a screening of the film Cholitas.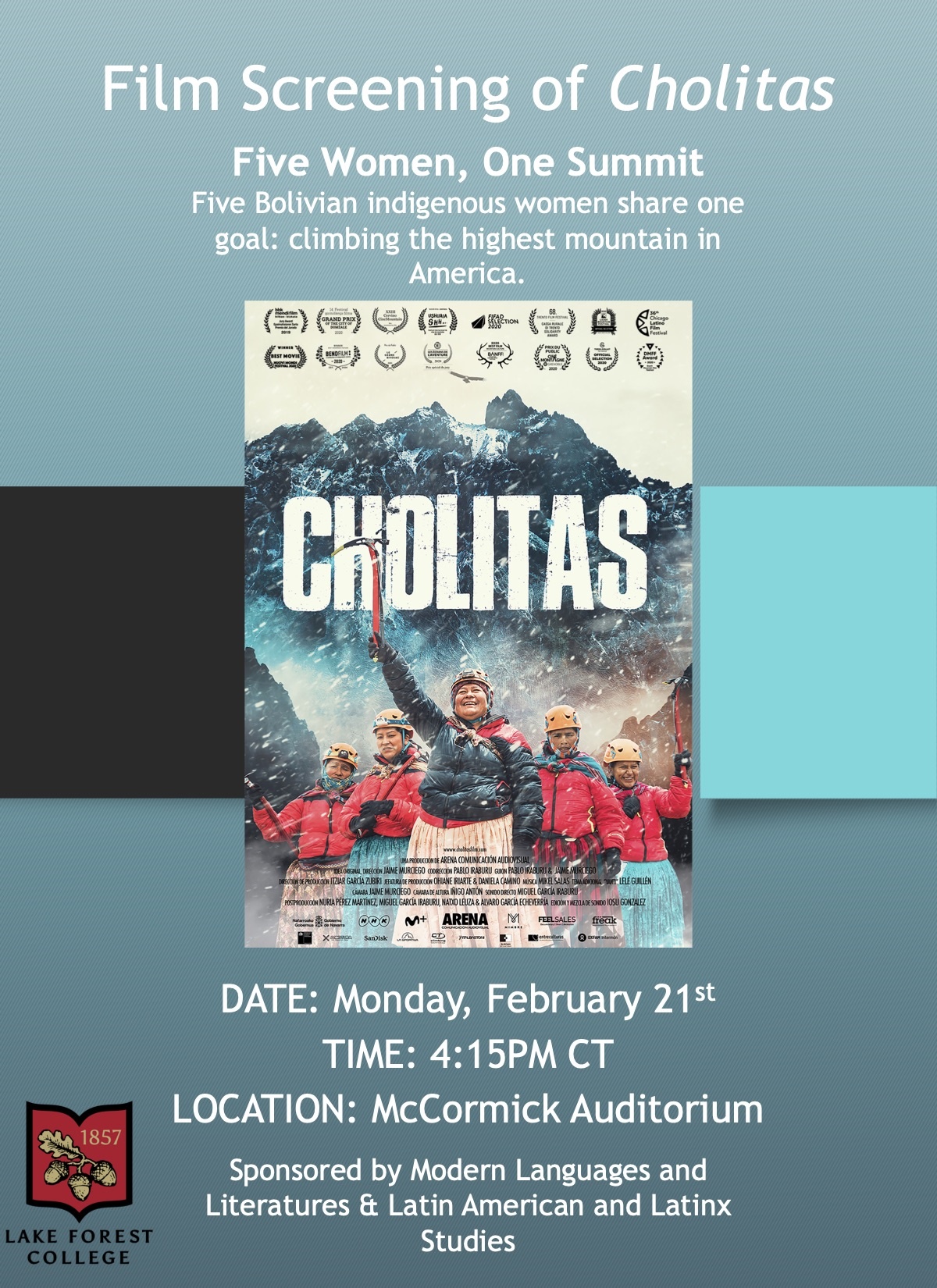 Five Bolivian indigenous women are involved in a unique expedition. As a symbol of liberation and empowerment, they propose to climb the highest mountain in America. Their image is amazing: they climb wearing their traditional skirt.
French Club celebrated upcoming holidays in December with a traditional "Bûche de Noël" (yule log cake) sponsored by the MLL Department for our weekly French conversation table.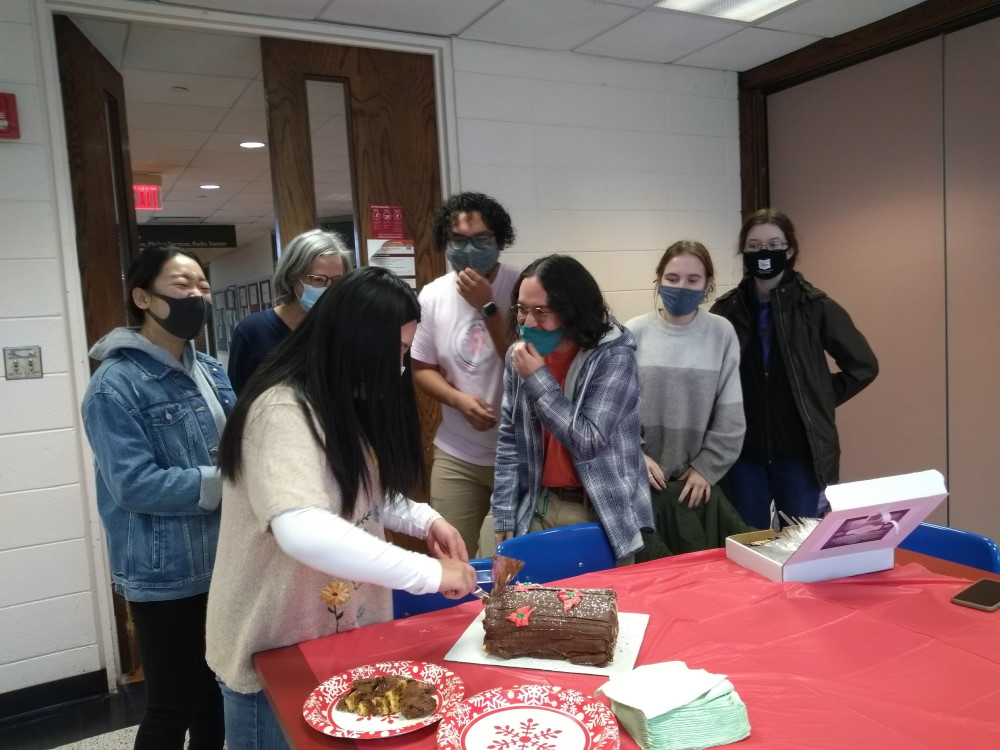 Professor Cynthia Hahn's class meets with internationally acclaimed rapper and slam poet from Québec "D-Track"
Prof. Cynthia Hahn's class, FREN280 Parlez-vous poésie : Rondeau to Rap, hosted a slam poetry workshop on Zoom, given by internationally acclaimed rapper and slam poet from Québec "D-Track" (David Dufour), thanks to a sponsorship by the Centre de la Francophonie des Amériques, under the coordination of Elise Bégin, for National French Poetry Week this November. Students appreciated hearing about D-Track's personal and professional background, complete with slam poetry reading and video. They also benefited from D-Track's instruction on identifying "figures de style" and created some original metaphors and similes in French, as well as coming up with material during a group writing exercise, that D-Track turned into an improvised slam in 30 seconds at the end of the class; impressive and inspiring!
Québécois poet Clara Lagacé meets with Cynthia Hahn's Class
Québécois poet Clara Lagacé, author of En Cale sèche (2017) met with Professor Cynthia Hahn's FREN280 Parlez-vous Poésie : Rondeau to Rap class this October to conduct a poetry workshop with her students. Lagacé is currently working with the Salon du Livre de l'Outaouais, an internationally recognized annual francophone book fair, and shared her academic preparation and professional experience with students, along with her poetry and writing tips.
Media turns to Denise Kripper in 'Squid Game' subtitle debate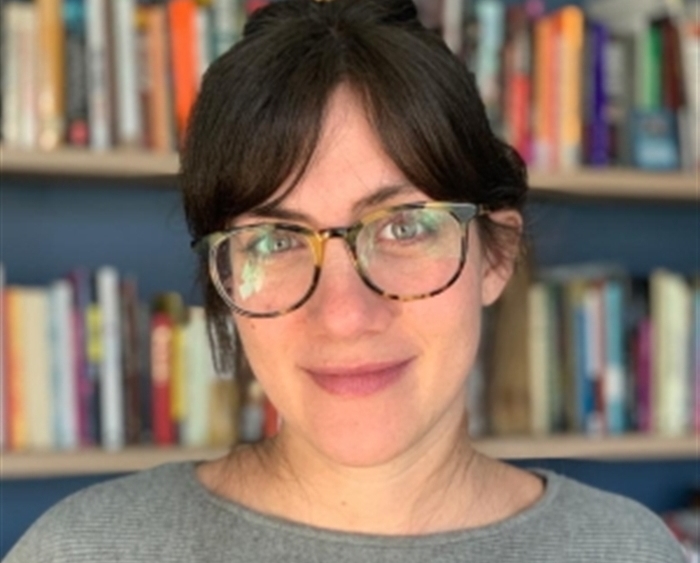 NBC News and National Public Radio's Weekend Edition turned to Assistant Professor Denise Kripper for her expert opinion on the translation debate surrounding the Netflix hit series "Squid Game."
Literary Translator Sarah Booker visited Prof. Kripper's class

Sarah is a translator, working from Spanish and Portuguese to English, and has published translations by Cristina Rivera Garza and Mónica Ojeda, among others, in publications such as Latin American Literature Today, Paris Review, and Asymptote. In addition, she is currently serving as Editorial Assistant for The Mercurian and Translation Editor for the International Poetry Review and has worked with Asymptote Journal as a blog editor. Last but not least, Sarah is currently pursuing a Phd at University of North Carolina – Chapel Hill. Sarah talked to students about her experience translating literature and working in translation in publishing and also discussed graduate school opportunities with them.
Discussing Medical Interpretation in Professor Kripper's class
LFC Alumni Marisol Carreon virtually visited Prof. Kripper's Intro to Translation Studies class to discuss her role as a medical interpreter at the Rosalind Franklin clinic. Marisol talked to students about how the classes in Spanish and Biology she took at the college prepared her for the job, the indispensable service she provides to the Spanish-speaking community, and how her role has changed in the last few months because of COVID-19.
Christian Reyes received a full Chinese Government Scholarship to study in China for the 2020/2021 academic year.
Professors Papadovasilaki and Wu awarded $40k grant to study investments
Working collaboratively across disciplines, Assistant Professor of Finance Dimitra Papadovasilaki and Assistant Professor of Chinese Ying Wu received a $40,000 grant from ASIANetwork to research investments in China.
MLL Student Successfully Defends Thesis
Her work investigates the effect of the Spanish conquest of Latin America on Latin American women's relationships with their bodies and sexuality. Colonizers imposed Eurocentric cultural and religious ideals to "civilize" indigenous peoples. The ideal most relevant to this analysis was the imposition of shame surrounding female bodies and sexual desire. The lasting presence of colonially imposed shame is analyzed in the female protagonists of three Latin American narrative texts: Never Marry a Mexican by Sandra Cisneros, Northern Ladies by Silvana Paternostro, and Perras by Jorge Enrique Lage. All three texts present different facets of the relationships between the female body, female sexuality, society, and Latin American identity. I conclude that the imposed Eurocentric colonial lens and concept of shame are still present in the ways that Latin American female bodies and sexuality are conceptualized by Latin American women and the societies in which they exist.
Mcpherson Prize for Excellence Scholarship – Spanish Awarded
Jennifer Bolek '20 - Established in 1899, the McPherson Prizes are the College's oldest awards. Jennifer is a double major in English: Literature and Spanish and a minor in Education. While at LFC Jennifer has been on the Dean's list three times and was accepted into Phi Beta Kappa. This upcoming school year, she will be returning to LFC as a graduate student to get her Masters in Teaching. After that, she hopes to become a high school English teacher.
Literary Translator Kristen Miller Visits Translation Class Virtually
Even in quarantine, translation students are engaging first-hand with experts in the field. French Translator Kristen Miller visited Prof. Kripper's Intro to Translation Studies course via Zoom to discuss her new translation SPAWN, by Marie-Andrée Gill. SPAWN is a braided collection of brief, untitled poems, a coming-of-age lyric set in the Mashteuiatsh Reserve on the shores of Lake Piekuakami (Saint-Jean) in Quebec. Kristen discussed her translation process and students had the chance to ask her questions about the art of literary translation.