As a business major at Lake Forest College, you'll have access to one-on-one career support throughout your time here and after graduation. A wealth of career options opens up with a degree in business. We'll help you pick the path that's best for you.
Join our business graduates in success
100% of Class of 2021 business majors are pursuing chosen opportunities after graduation. 87.5% reported landing a job within six months of graduation, while the other 12.5% are continuing their education.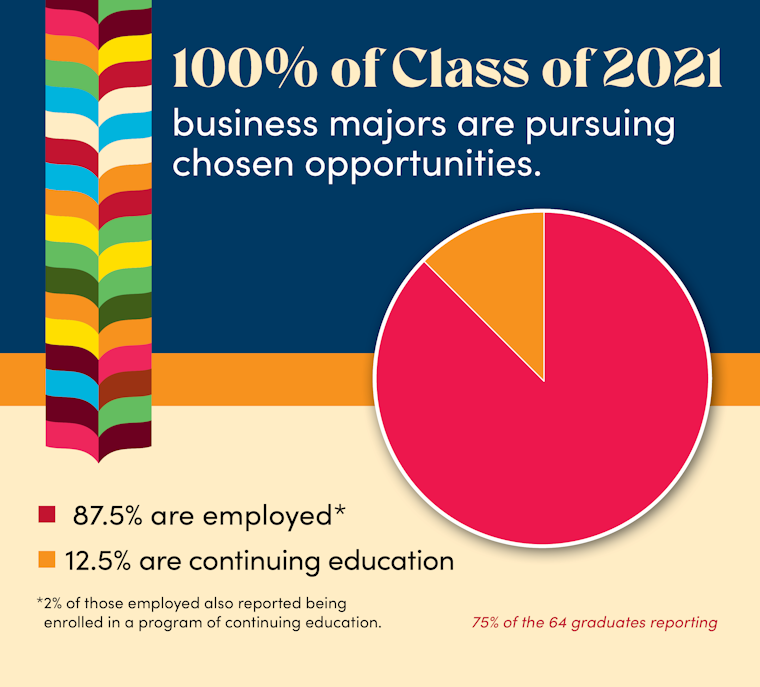 Contact Information
Marie Josephitis
Business, Finance, and Data Science Career Pathway Leader
mjosephitis@lakeforest.edu
847-735-6186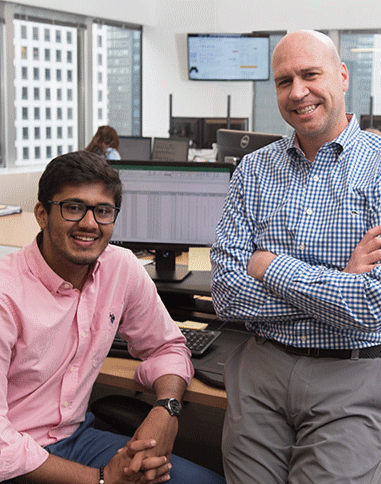 One Major, Multiple Paths
A degree in business can open up a variety of opportunities. Here's a sample of job titles our newest graduates have held in the last five years:
Associate Product Manager
Data Consultant
Digital Marketing Specialist
Equity Research Analyst
Financial Analyst
Healthcare Recruiter
Investment Research Rotational Program
Markets & Securities Analyst
Research Associate
Staff Accountant
Technology Leadership Development Program, Technology Analyst
Technical Solutions Engineer
Where our graduates land
Our students have completed an internship or landed a job with high-profile organizations in and beyond Chicago.
Our most recent graduates have interned at or joined the ranks of these companies in the last five years:
Alight Solutions
Allstate
Baird
Ayco, A Goldman Sachs Company
Bank of America Merrill Lynch
Citigroup
CME Group
Federal Deposit Insurance Corporation
Groupon
Morningstar Inc
Pricewaterhouse Coopers
Starcom
Advancing their studies
Business graduates have also furthered their studies through graduate programs across the country. We set our students up for success so they can enroll in diverse programs such as this sample of degrees pursued by recent graduates:
MBA (Kellogg School of Management, Northwestern University; Loyola University Chicago, The Paul Merage School of Business, University of California; University of Wisconsin Parkside)

Master of Science in Accountancy (College of William and Mary, University of Notre Dame, DePaul University, Loyola University Chicago)

MS in Taxation (University of Illinois at Urbana–Champaign)

Master of Finance (Case Western Reserve University, Purdue University)

Master of Kinesiology and Recreation (Illinois State University)

Juris Doctor (University of Michigan Ann Arbor)

A Lake Forest College education is built for the future. All students are equipped with the most sought-after professional skills: writing, speaking, critical thinking, and an understanding of human society and cultures. Our interdisciplinary curriculum sets our graduates apart as competitive and uniquely qualified candidates who are eager to take on the challenges presented in today's professional world. Learn more about how our students turn their passions into a career on our Success Stories and Outcomes page.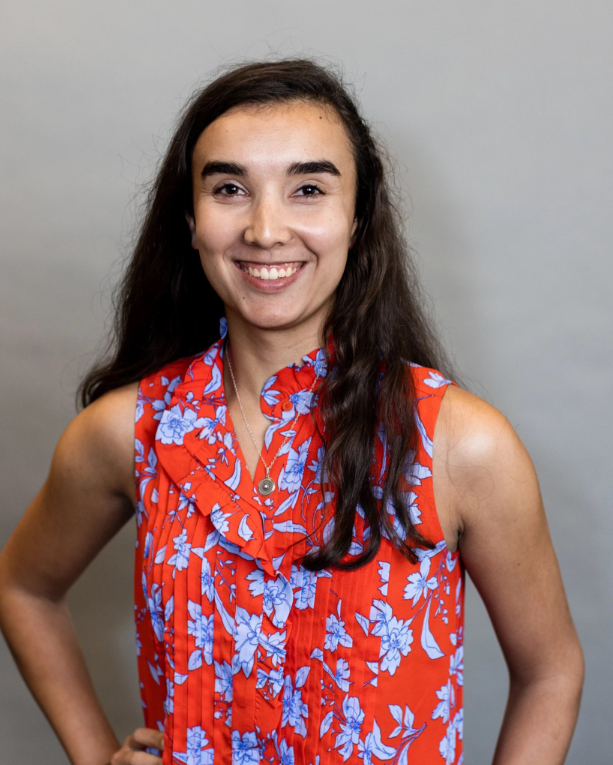 "
The Career Advancement Center, professors, advisors and coaches all prepared me for after I graduated. I was engaged in the community and took advantage of networking opportunities that were available to me. There were also mentorship opportunities, networking referrals and an immersive experience provided to me by the College. My professors challenged and taught me well.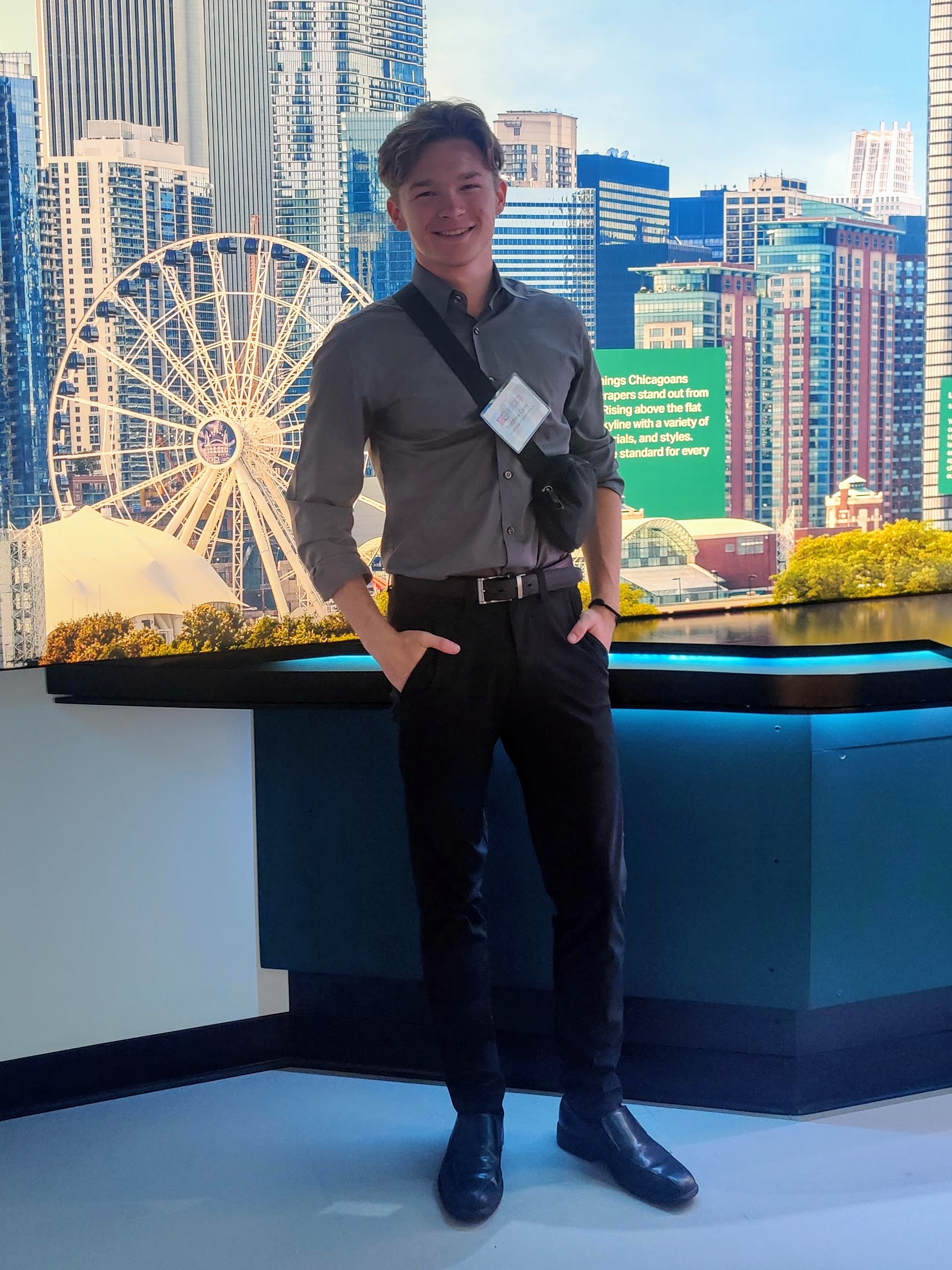 "
As part of my internship, I attended a Juneteenth panel at the Field Museum, visited the Willis Tower Skydeck, took a Wendella Boat Tour, explored Chinatown, and networked with top level professionals in Chicago.
Matthew Carey '24, Intern at WorldChicago
These journeys aren't the only way to make it at Lake Forest College. Our career pathways offer a multitude of different ways to take advantage of the education here as well as the opportunities after graduation.
Like what you see?
Arrange a campus visit to see what Lake Forest has to offer in person. You'll be able to talk with professors, students, and get a taste for what Lake Forest has to offer your career.
Contact the Gorter Family Career Center
General Contact
Gorter Family Career Advancement Center
256 Brown Hall, Middle Campus
847-735-5235
careers@lakeforest.edu
Career Pathways
Business majors most often find a home in the Business, Finance, and Data Science Pathway, but they can also find a home in any Career Pathway.