Special Circumstance Forms
If you feel the FAFSA (federal application) does not provide an accurate or complete picture of your family's financial situation, the forms on this page may help to explain and document your personal, special circumstance(s).
Review the situations listed below, and determine if any are relevant. It is often beneficial to contact our office first, providing general details before completing any form, as doing so may not affect your (your student's) eligibility. Complete any applicable form(s) only if your cost exceeds the minimum amount shown, or we recommend you do so. Return them to the Office of Financial Aid., preferably as a .pdf via email. You may also fax or send by mail to the number/address at the bottom of the form.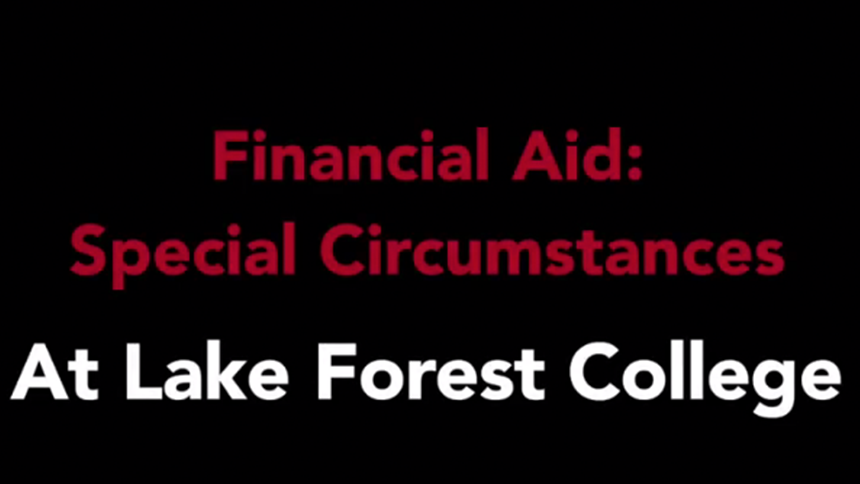 Forms for the 2023-2024 Academic Year
Forms for the 2022-2023 Academic Year
Educational Expenses - your parent pays $2000+ for his/her education, or for a siblings (grades K-12 only) during 2022-2023 academic year
Educational Loans - parent borrower is currently repaying $2000+/year to his/her own loan, or a loan for expenses for a sibling who is no longer in college
Healthcare Expenses - Complete if your parent paid in 2021 or will pay in 2022 at least the following amounts: 2 in family: $4000; 3 - $4500; 4 - $5000; 5 - $5500; 6 - $6000; 7 - $6500
Income Change (parent) - a significant change vs. 2020
Income Change (student) - a significant change vs. 2020
Second Household Expenses - parents married, but currently living in different homes in different cities
Unusual Expenses - parent pays $2000+ in 2021 or 2022 for such things as dependent care, funeral costs, non-elective home repairs, legal fees, support of extended family, etc.

Options for documenting your 2020 income. As of mid-May, most students who were selected for "verification" no longer need to provide documentation of their/their parents' income. If you do need to document 2020 income, you have several options:
Use the IRS DRT (preferred): In most cases when you filed a tax return, the IRS Data Retrieval Tool (included within the FAFSA) is the best method, following these steps. Note that you cannot use the DRT when...

Provide a signed copy of your 2020 federal income tax return (1040).

Provide a tax return transcript (TRT) for 2020. From the IRS Site choose "Request Online" to gain immediate access to a .pdf or choose "Request by Mail" to receive within two weeks. You may also request by phone, at 800-908-9946.
If you are experiencing any hardship whatsoever, especially during this unsettling time of COVID-19, please let us know. We will help as much as we can!
Scan & e-mail, fax, or mail completed forms to:

Office of Financial Aid
Lake Forest College
555 N Sheridan Rd
Lake Forest, IL 60045-2338
E-mail: finaid@lakeforest.edu
Fax: 847-735-5103
Contact Financial Aid
Location
Patterson Lodge, 2nd Floor
Middle Campus, Map
Hours
Monday-Friday
8:30 a.m. - 5 p.m.
FINANCIAL AID STAFF
Adriana Rodriguez
Associate Director for Financial Aid Operations
VA Certifying Official
847-735-5015
rodriguez@lakeforest.edu
Si necesita hablar con alguien en español en la oficina de ayuda financiera, usted puede llamar a Adriana Rodriguez.