Lake Forest College is known for making the college experience an affordable one for our students and their families. You could receive up to $34,000 annually in merit-based scholarship. Over 95% of admitted students receive scholarships and/or need-based financial assistance from the College.
Scholarships are guaranteed for all four years as long as the student maintains a 2.0 GPA and satisfactory academic progress.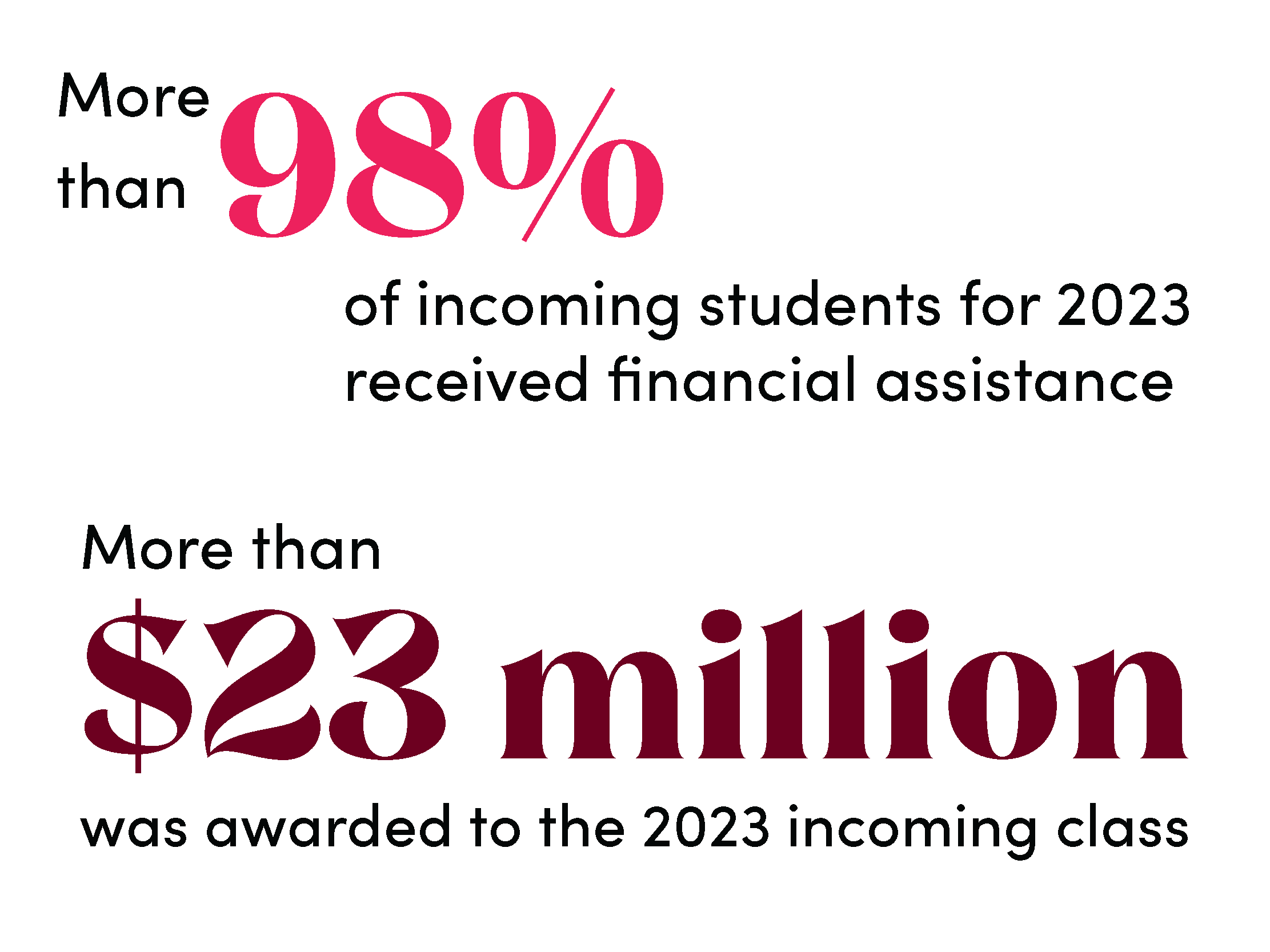 Forester Scholars Weekend
Can you show us what it means to be a Forester and win one of six full-tuition scholarships? Forester Scholars Weekend is a dynamic, immersive, invite-only (Fall 2023 first-year students) experience where you can engage with current students and faculty and participate in an evaluative academic session to win scholarship funds. Apply today to be considered.
Transfer students: P

lease refer to the transfer scholarship page for further information.
Merit-Based Scholarship
First-Year students entering in Fall 2023: to get an idea of the scholarship you may be eligible for, see the chart below using your high school GPA (weighted) or your ACT or SAT score.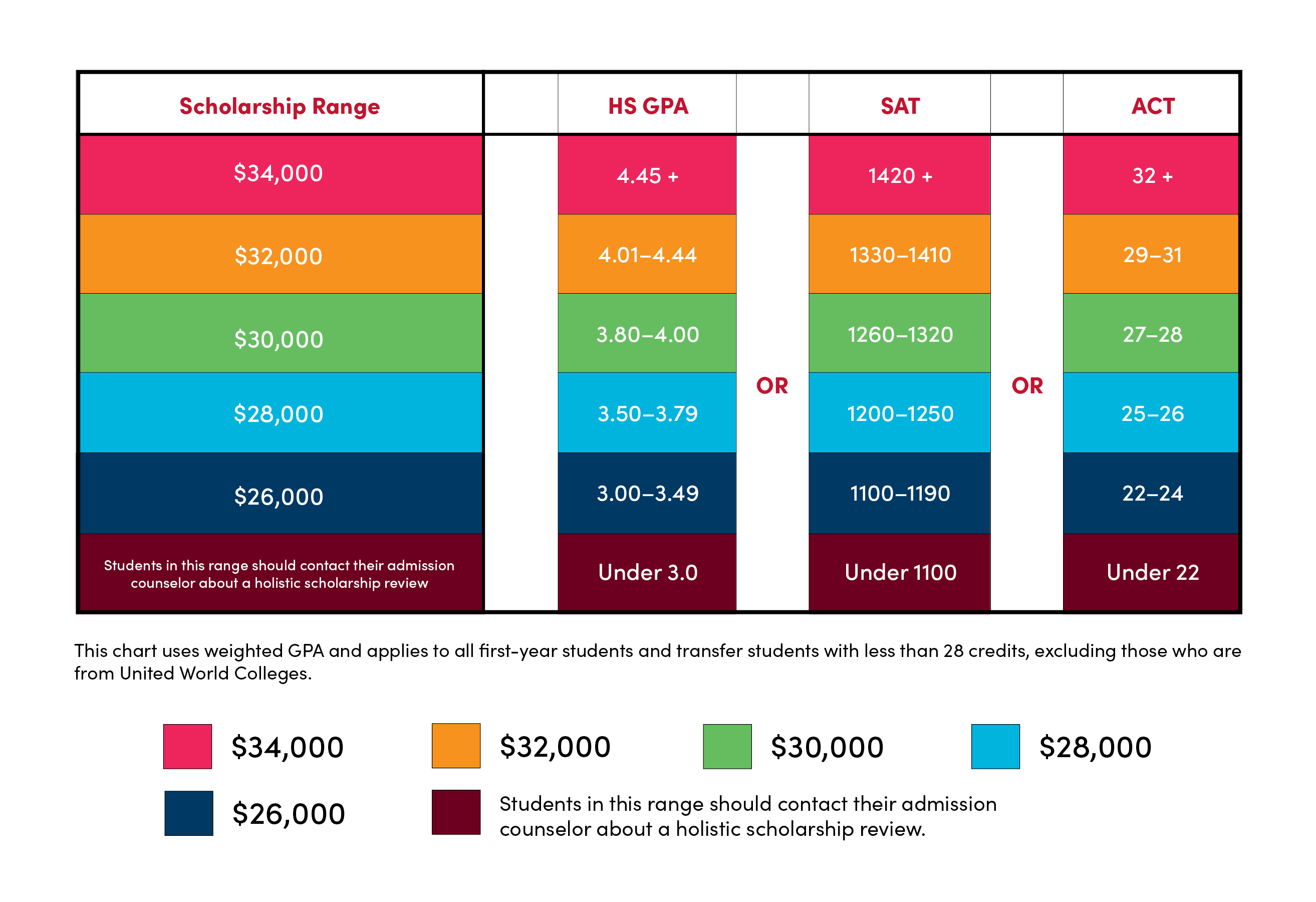 *Please note that the above grid only applies to first-year students entering the College in Fall 2023 excluding United World Colleges.
Not on the grid?
Don't worry! At Lake Forest College, we know that our students are more than just a number. We are searching for interesting, well-rounded students to add to our already diverse community. Your engagement with the College, accomplishments in and out of the classroom, leadership potential, course preparation, and more will be taken into consideration by our holistic review. Don't hesitate to apply!
Applying Test-Optional?
Those students who are applying without submitting their ACT or SAT scores must schedule an interview with their admission counselor as soon as possible. We believe that this conversation tells more about a student's drive and passion for learning than a standardized exam. Students who apply test-optional will be reviewed for scholarship on an individual basis using our holistic review process.
Review Process
As an institution that is truly diverse in every sense of the word, we at Lake Forest College pride ourselves in our holistic admissions review. Whether you find yourself on the above grid or not, your admissions counselor will review your file for scholarship consideration based on qualities that we know make a successful Forester. Beyond just a GPA or test-score, we are looking for students that want a personalized academic experience, paired with the world-class opportunities that Chicago has to offer.
Renewal Requirements
Academic scholarships from the College are renewed with continued, full-time enrollment and a minimum cumulative GPA of 2.0. Additional requirements can be found here.
Forester scholarships (Fine Arts, Carnegie English, etc.) are renewed by the respective department conditional on meeting the specific scholarship requirements. Renewal decisions are made every spring.
We are currently accepting applications for Spring 2023 and Fall 2023 Applications for First-Year and Transfer Students.
Additional Scholarship/Grant Opportunities