Master of Liberal Studies
The Master of Liberal Studies Program is designed for those who have completed a bachelor's degree and who want to enhance their knowledge and analytical skills to prepare themselves for the challenges of the twenty-first century.
The Basics
Lake Forest College offers a master's degree in liberal studies (MLS) to adults who live and work in the community, including teachers, professionals, and anyone interested in pursuing advanced study for their own enrichment and pleasure. The heart of the MLS program is a series of interdisciplinary seminars, taught by faculty members representing different disciplines. These specially designed seminars foster the ability to integrate knowledge from several fields and to deal with major questions in light of the wisdom afforded by a broad understanding of the liberal arts.
Getting Started
The MLS program is flexible, designed to be responsive to the needs of individual students. Students can enter in either Fall or Spring and pursue the program at their own pace. Students working with an advisor design their own curricular programs. We will collaborate with you to develop a plan that fits your schedule and your life.
110 Buchanan Hall and is open daily from 10am-5pm.
Stay up to date and see all the latest MLS news in the 2023 MLS Spring Newsletter.
AGLSP Member
We are proud to be an institutional member of the Association of Graduate Liberal Studies Programs. This organization creates a forum for the exchange of information and ideas among Graduate Liberal Studies programs, their students, their alumni, and all others with related intellectual and institutional goals.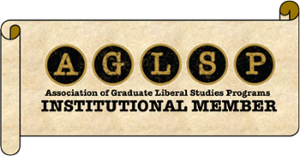 Teacher Grant
The MLS program welcomes educators and has a program of grants to help pay tuition. Teachers are eligible for grants that can reduce their tuition per course by as much as half. Applying for a grant is simple. Email gayle@lakeforest.edu to learn more.
Auditing MLS Seminars
Auditing MLS Seminars
Adults may register to audit an MLS seminar, assuming there is space in the class. Students who audit an MLS seminar attend classes and may participate in discussion, but they do not write the papers. Auditors do not earn academic credit but the course they audit will be listed on their official transcripts with the designation of AU. Tuition for auditing is currently $600 per course.
Option for MLS Auditors to Transition into the MLS Program
Students who successfully audit four MLS seminars will be granted one graduate credit, which may be counted towards the eight credits needed for the Master of Liberal Studies degree.
What Our Students Have to Say
Robert Bullard: "I undertook the MLS program to advance my professional career. I was looking for an opportunity for real intellectual stimulation and I was absoultely energized by the idea of sitting around a table with professionals from other careers and sharing thoughts and ideas -- and debating those ideas. It was a great opportunity to be in class with the best of the best in teaching faculty."
Anita Cukier: "Challenging, yet non-competitive, the MLS program encourages independent thinking, fosters interests, and opens up new horizons. It is a nurturing program led by professors whose constant encouragement instills confidence and resolve and inspire further academic endeavors."
Thomas Skelly: "The quality of the discussion around very interesting topics I found to be excellent. You get a clear diversity of opinion among professors and students with different life experiences."
Jane Steen: "I developed more confidence in writing and speaking about a variety of subjects."