Join us in celebrating Commencement for the Class of 2021 and the Class of 2020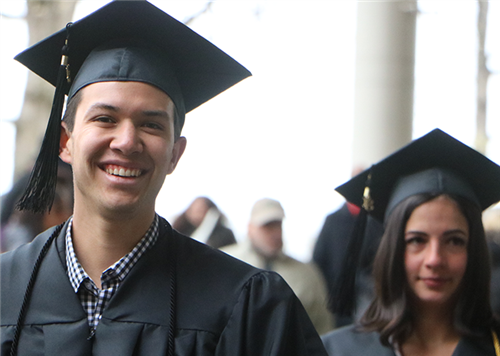 Event info
Class of 2021 – Tuesday, May 18 at 10 a.m. and 4 p.m.
Class of 2020 – Friday, May 21 at 1 p.m.
Arrival times
Graduates should plan to arrive an hour before their ceremony begins for check-in.
That means:
Class of 2021
10 a.m. ceremony – Arrive at 9 a.m.
4 p.m. ceremony – Arrive at 3 p.m.
Class of 2020
1 p.m. ceremony – Arrive at noon.
Tickets
Each graduate will receive two tickets. Guests must be registered and will receive their ticket information a week before the ceremony. Guests should be prepared to show the QR code on a smart phone or printed copy to gain entry. Graduates do not need tickets. The ceremony will be livestreamed for those who cannot attend.
Extra tickets
Additional tickets that have become available for all ceremonies will be awarded by lottery. Graduates should watch their emails for the opportunity to register for the lottery. Winners will be selected at random for the opportunity to register for up to two additional tickets.
Cap and gown pick-up
For residential and commuter students, Cap and Gown Pick-Up will be Tuesday, April 27 from
11 a.m. – 1 p.m. in the Mohr Student Center, main floor.
Caps and Gowns for students learning remotely this semester have been shipped to the address on file with the College. Students who reside in the U.S. should have received their packages already. Please contact Fran Pease at commencement2021@lakeforest.edu if you have not received your package.
Name pronunciation
The highlight of commencement is, of course, walking across the stage to receive your diploma. The Dean of the Faculty wants to be certain to pronounce your name exactly the way you (and your parents) would like it to be heard. To help the Dean, we need an example of you pronouncing your name.
If you have a smart phone, record your voice saying your full name as it will appear on your diploma. (If you're unsure of what that is, just record your full name including middle name.) Email or text your recording to David Levinson in ITS (levinson@lakeforest.edu, 847-708-1901) by April 30. If you send by text, be sure to type your name into the text along with the recording.
Keep an eye on the weather
The ceremonies will be held outdoors rain or shine. In the case of rain, we will have ponchos available for all attendees. In the event of severe weather, the respective ceremonies will be held on the following day. Watch your email for updates on the day of the ceremony.
Safety protocols
The College will require all attendees to wear masks (even if vaccinated) and keep a proper social distance at all times.
Moving out of residence halls
Graduates will need to be moved out of their residence halls by noon on Wednesday, May 19.
Balloons and other signage
Please do not bring items that could interfere with the view for other guests. Latex balloons are prohibited.


Questions

General Questions?
Fran Pease, Assistant Dean of the Faculty for Operations and Commencement Director
847-735-5021
commencement2021@lakeforest.edu

Updates to RSVP?
Kristen Nolan, Director of Conferences and Facility Rental
847-735-6030
nolan@lakeforest.edu

Graduation photographs?
GradImages
800-261-2576
gradimages.com

Announcements?
Jostens
800-854-7464
jostens.com

Additional questions?
Office of Development and Alumni Relations
847-735-6000
alumni@lakeforest.edu