Student Honors and Research
At Lake Forest, students conduct the highest level of research and scientific discovery with professors who are experts in their fields.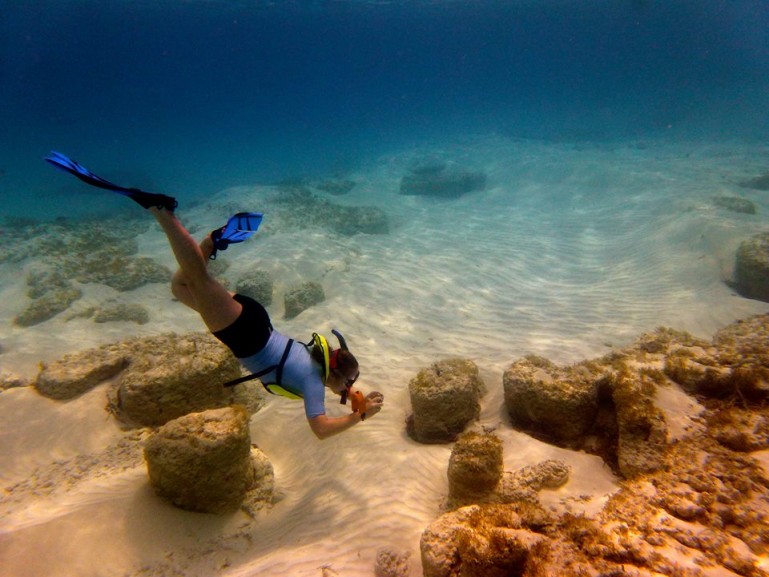 Not all research is done in the lab. Environmental studies and biology student Hilary Wind '14 conducted field research in the ocean while studying abroad in New Zealand.
Richter Scholars
The Richter Scholar Summer Research Program provides students with the opportunity to conduct independent, individual research with Lake Forest College faculty early in their academic careers. The ultimate goal is to foster a strong commitment to the intellectual life, and to encourage participating students to consider careers in research and teaching. Learn more.
James Rocco Quantitative Research Fellowship
The James Rocco Quantitative Research Fellowships offers up to $5,000 for innovative, student-designed quantitative research projects to be carried out during the summer or the academic year. Provided the proposed topic is quantitatively based, the only limits on the field of study are student ingenuity and creativity. Learn more.
Rosalind Franklin University Summer Research Training Program
Every summer, 15-18 undergraduates, from first year to senior thesis students, conduct 10-12 weeks of paid research as summer fellows at Rosalind Franklin University of Medicine and Science (RFUMS). Alumni of this program are successfully pursuing PhDs, medical school, physical therapy, optometry, and other scientific careers. Learn more.
Recognizing Exceptional Student Work
Exceptional student work is recognized in a variety of ways at Lake Forest College, including not only the Student Symposium, and the Phi Beta Kappa Senior Thesis Award, but also through a variety of special awards and honors at graduation.