The Fund for Lake Forest College provides scholarship support with help from donors like you. Your donations provide support for a rigorous academic environment where students can achieve their fullest potential—students who will go on to ask tough questions, tackle challenges, and become leaders in their communities. Meet a few of the next generation of difference makers from the Class of 2023.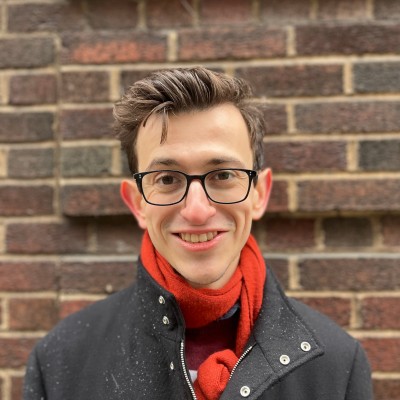 "
At Lake Forest College, I have managed to develop an incredible career, with inspiring professors and peers by my side. I know, that reflecting on my college experience in the future, I will always remember these four years as some of the happiest moments of my life.
Luca Sassi Arobba '23, Class of 1968 Scholarship
Major(s): Economics, International Relations
Please introduce yourself!
My name is Luca Sassi and I am an Uruguayan international student at Lake Forest College. I come from humble origins, and I manage to get myself here, thanks to a series of scholarships that allowed me to firstly earn my International Baccalaureate diploma at the United World College of South East Asia in Singapore, and later a gap year program with Global Citizen Year in Senegal; in which I lived with a local family while working as an English teaching assistant at the local high school. I am currently pursuing a double major in International Relations and Economics, as well as completing a minor in Public Policy Studies. I believe that my previous life experiences are what have driven me to pursue my career pathway in these fields.
What activities are you involved in at Lake Forest College or in your community and how has your involvement impacted you?
Now in my senior year, I completed the In The Loop Program in the fall and an Internship for WorldChicago, a non-profit that bolsters international professional exchanges between the city of Chicago and other delegations of the world. Completing the In the Loop program was one of the aspects that made me apply to Lake Forest to begin with, and was by far a life-changing experience. This spring, I am currently very focused on my last four classes which will impact my future professional career.
In receiving this scholarship, how does it make you feel about seeing your efforts rewarded?
When I learned that I had been selected to receive the Class of 1968 Scholarship, I felt very humbled and grateful! When I was a kid I never envisioned myself pursuing what I have the opportunity to accomplish at Lake Forest College. Your scholarship is an incredible tool that makes me move forward at both; the professional level, and in future academics! I am very honored by your individual and collective support and hope my performance can match your expectations.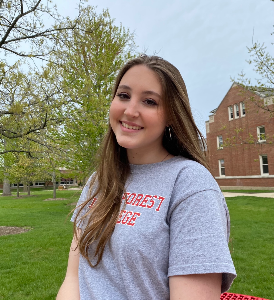 "
My experience at Lake Forest College has by far been the most impactful, and I'm beyond grateful to say I will be a Lake Forest College alum.
Desiree Brady '23, Frank And Jean Mohr Endowed Scholarship
Major(s): Sociology and Anthropology
Minor(s): Educational Studies
Please introduce yourself!
I'm from Harvard, IL, located in northern Illinois, and am the oldest of three children. I'm also a first-generation student! I've received the honors of being a member of Phi Beta Kappa, Omicron Delta Kappa, and an annual Dean's List recipient.
What groups or organizations are you passionate about being a part of at Lake Forest College or in your community, and why?
I'm a part of the ambassador program, Gummere Fellows, Omicron Delta Kappa, Phi Beta Kappa, Student Programming Board, New Student Orientation Program, Greek life, and more. I mention all of my involvements because each has played its role in my time at Lake Forest College, as well as building community. I genuinely believe that at the end of the day, the specific organization or involvement doesn't play the biggest factor, but rather the people at Lake Forest College, and as long as community is being engaged that's where my passions lie.
Have you had an amazing research, study abroad, and/or Chicago experience? Tell us about it!
I've been a research assistant for Dr. Joseph in the History and African American Studies Departments researching and helping her with her work on the Haitian Diaspora in the Chicagoland area. I've also engaged in my own research on the empowerment of female athletes, which I'll be presenting at the Student Symposium.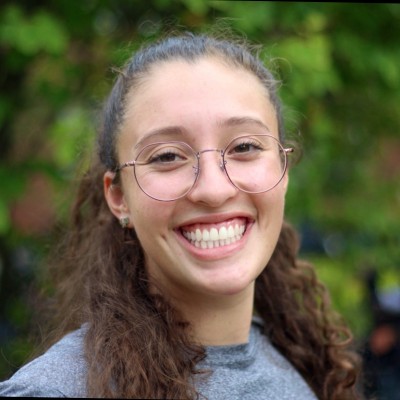 "
I've made so many memories here on the swim team, as a Tri Delta, and as a football team manager. I wish I could express better how grateful I am but I am completely at a loss for words.
Vanessa Ordaz '23, Andrea Bond Wilson '87 Annual Scholarship
Major(s): Data Science

Minor(s): Chemistry
Please introduce yourself!
Hi, my name is Vanessa Ordaz and I am now a senior here at Lake Forest College. I'm from Los Angeles, CA and am the oldest of three sisters; I am the first one in my immediate family to attend a 4-year institution. I have a single mom who works her tail off to support me and my education. During my time here at the College, I've become a four-year varsity letter recipient as a member of the swim team, where we won a conference championship. I also served two officer positions, New Member Educator and VP Chapter Programming and Development, in my sorority Tri Delta.
Who inspired you here at the College?
All of my professors and coaches have been an inspiration to me and have taught me many lessons. Coach Tashlitsky and Coach Cat gave me a kind of tough love that I much needed in order to learn how the real world works. Dr. Gard made math and data science so much fun and I'm excited to hopefully pursue a career in Data Science.
What groups or organizations are you passionate about being a part of at Lake Forest College or in your community, and why?
My sorority has made a huge impact in my community. We do a lot of fundraising for St. Jude as well as partnered with other on campus organizations like LEAP for campus cleanups and Latinos Unidos and SAASA for our DEIAB efforts. We've done a lot of work to educate ourselves and our community about many disparities. Most recently, we teamed up with Latinos Unidos to collect feminine hygiene products to donate to those who don't have access to them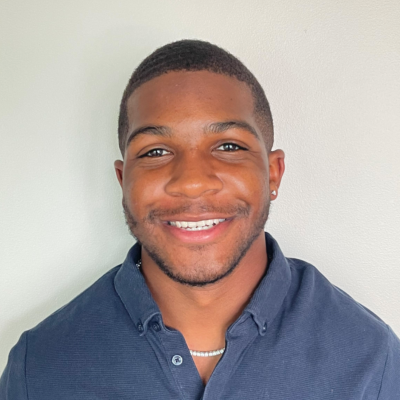 "
I'm so very thankful for this, and I can only hope to return the favor to another student who deserves something of this magnitude. My experience at Lake Forest College has been just that, an experience.
Jaronn Correll '23, Curtis Family Scholarship
Major(s): Finance
Please introduce yourself!
Hello, my name is Jaronn D. Correll, youngest of five brothers with two amazing parents who always made sure we were in the best position to succeed. I grew up in the south suburbs of Chicago in Glenwood, IL in a household full of athletes, where I was one myself. My parents also pushed education so I always had to make sure I had my studies together. Due to being an athlete and having spectacular brothers, we were very competitive and always tried to out-perform the others in healthy competition. Being the youngest gave me a lot of advantages. Being able to sit back and see the route all my brothers took, it allowed me to realize what I wanted to do, and what I didn't want to do. I contribute a lot of my success to them and my parents for being amazing role models. I no longer play sports--I gave up football after my freshman year of college to focus more on school and being a finance major. I love to work out and give back to those who are in need, or anyone that I can have a positive effect on. This stems back to my fraternity Phi Beta Sigma where our motto is culture for service, service for humanity. I'm also a member of Black Mens Group on campus, and Omicron Delta Epsilon, the national honor society of economics. Among all that, I've secured a full time job after college working at BMO capital markets, starting off as a corporate banking analyst.
Why did you choose to pursue your (intended) major(s) and minor(s)?
I chose Finance because I was always interested in how money works. Also, the wealth gap amongst minorities is something that I want to work towards closing for my family, and choosing this major is helping me take those first steps. This will allow me to not only help my family, but also my community by spreading knowledge a lot of individuals do not know due to how they grew up.
What has been your favorite course at Lake Forest College? What did you enjoy about it?
It has to be between Money and Banking or Investments, which I'm taking currently. I really just enjoy learning about the markets and money as a whole, and investing. Gaining this knowledge is life-changing information that anyone can benefit from. All you have to do is start.