Robert B. Glassman Memorial Brain, Mind, and Behavior Symposium
The 2021 Glassman Syposium will be held November 4–5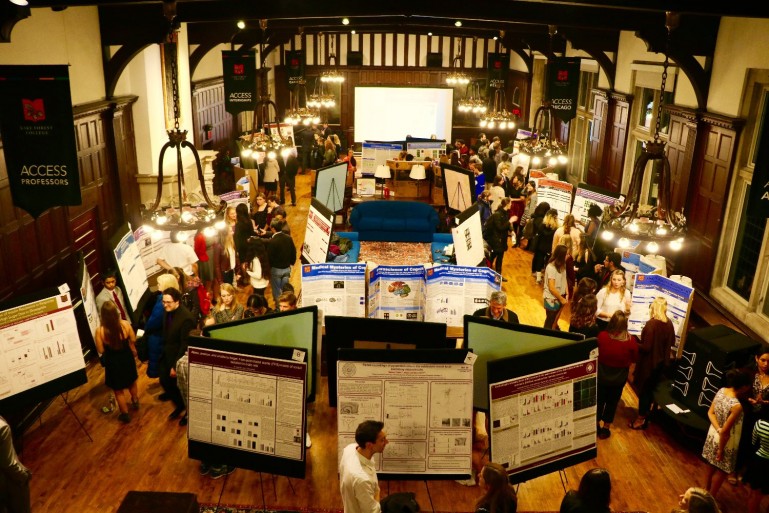 Honoring Outstanding Student and Faculty, and Alumni Research in Behavioral and Life Sciences
The Brain Awareness Week Faculty/Student Symposium was renamed the Robert B. Glassman Memorial Brain, Mind, and Behavior Symposium in 2013 in honor of the late Professor of Psychology Robert Glassman, who played a leading role in developing Lake Forest's popular neuroscience major.
The symposium consists of a series of talks given by Lake Forest College faculty and alumni on November 4 and an poster session where Lake Forest students and alumni will present their original research on November 5.
November 4 – Faculty/Alumni Talks
7–9 P.M., presentied via Zoom
Request a Zoom link from Dr. Shubhik Debburman at debburman@lakeforest.edu or 847-735-6040.
Sara Zelenberg, PhD
Assistant Professor of Computer Science and Mathematics, Lake Forest College
Cognitive Probabilities: Simulating Human-Like Object Identification in Situations of Uncertainty
7:05 P.M.
Nijee Sharma Luthra '04, MD, PhD
Assistant Professor of Neurology, University of Californa, San Francisco
Enhancing Cognitive Resilience in the Parkinson's Disease Brain
7:25 P.M.
Janet McCracken, PhD
Professor and Chair of Philosophy, Lake Forest College
Avian Cognition and Socratic Method
7:45 P.M.
Michael White '07, MD
Assistant Professor of Neuro-Oncology, University of Rochester
Improving and Extending Life for Patients with Metastatic Cancer in the Brain
8:05 P.M.
Vivian Ta, PhD
Assistant Professor of Psychology, Lake Forest College
A New Frontier for Improving Police-Community Relations
8:35 P.M.
---
Closing Remarks, Synapse
8:55 P.M.
Archive of Abstracts
RELATED
November 5 – Undergraduate and Alumni Research Poster Session
Abstracts for the poster session will be posted before the event; please check back here for updates.
4:30–6:30 p.m., Calvin Durand Hall, Mohr Student Center
4:30 P.M. Chicago Society for Neuroscience and Synapse Reception and Unveiling of Annual Neuroscience Sculpture
4:45 - 6:10 P.M. Poster Viewing
Enjoy posters and exhibits by current students and recent alumni of original student/faculty research conducted at Lake Forest, Rosalind Franklin University of Medicine and Science, Midwestern University, Northwestern University, University of Minnesota, Illinois Institute of Technology, and Rush University

6:10 P.M. Closing Ceremony
Introduction, Synapse
Remarks, Lake Forest College President Stephen Schutt
Recognition of student scholars and celebratory photo