Civics Program for Teachers
The MLS Civics Program consists of a series of graduate courses designed to help teachers respond to the new State of Illinois civics requirement for high school students, offered through the Master of Liberal Studies Program of Lake Forest College. 
The Civics program brings together small groups of high school teachers in special graduate seminars, led by members of the faculty of Lake Forest College's Master of Liberal Studies program. These seminars focus on key issues and documents of political thought that have shaped our nation's history. Support for this program is provided by a grant from the Jack Miller Center from its Founding Civics Initiative. The program is open to working high school teachers who teach about American society and is ideal for those who teach American history, government, social studies, or American studies.
For more information on the David Spadafora Civics and the American Founding Program visit our webpage.
Register by September 1 for an additional incentive (Apply to the Civics Program)!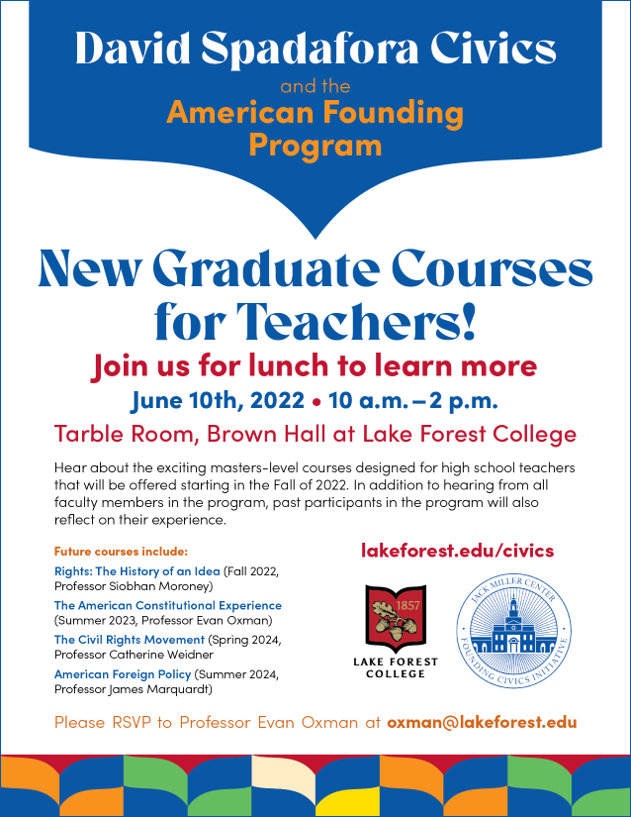 Questions?
For more information about the program and the Fall and Spring seminars call Carol Gayle, Associate Director of Lake Forest College's MLS program, at 847-735-5083, or email her at gayle@lakeforest.edu.