<div style="background-image:url(/live/image/gid/59/width/1600/height/300/crop/1/29922_neuroscience_brains_header_2.rev.1450299792.png)"/>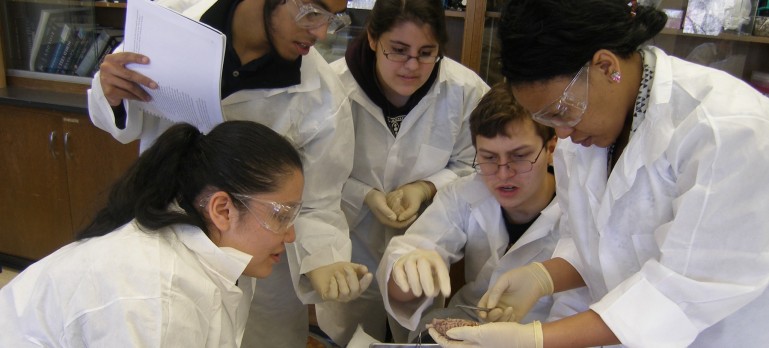 In the classroom, lab, and field, our professors guide students through an interdisciplinary exploration of the brain that draws heavily on the natural and social sciences, but also integrates the humanities and arts.
Neuroscience at Lake Forest College
Through empirical investigation, faculty and students in the neuroscience program seek to understand the building blocks of brain, mind, and behavior at all levels, from the cellular and molecular physiology of neurons to the function of neuronal networks to the complex behaviors exhibited by human and nonhuman animals. 
Research
Given that the majority of neuroscience courses are laboratory-based, our students gain valuable research experience from their very first class and throughout the curriculum.  Students also have opportunities to conduct advanced research usually reserved for graduate students, both on and off campus. This intensive training in research and analysis provides marketable skills for a variety of careers and provides an excellent background for launching into graduate or medical school.
Field Experience
Our neuroscience program has an extensive internship program. We have partnered with dozens of institutions in the Chicago area to provide practical and relevant field experiences for our majors.  Whether your interests in neuroscience trend more towards biology or psychology, research or practice, we have a dedicated team of experts that will help you find the field experience that aligns with your goals. 
<span class="lw_profiles_image"><span class="lw_item_thumb"><a href="/live/profiles/175-jody-buck-13"><img src="/live/image/gid/18/width/242/height/242/crop/1/src_region/0,0,600,450/22570_2484_buck_jody_sm.rev.1410547191.jpg" alt="Jody Buck '13" title="Jody Buck '13" class="lw_image" width="242" height="242" data-max-w="600" data-max-h="450"/></a></span></span><div class="quote"><p> "I gained valuable skills from this internship that are crucial to my success in my current career path."</p></div><a class="recruit-link" href="/live/profiles/175-jody-buck-13">Jody is now pursuing a Masters degree in Human Resource Management at the Illinois Institute of Technology and planning for a career in organizational behavior consulting.</a>
<span class="lw_profiles_image"><span class="lw_item_thumb"><a href="/live/profiles/167-amanda-gibbs-16"><img src="/live/image/gid/18/width/242/height/242/crop/1/src_region/0,0,227,170/22562_15632_gibbs.rev.1410538190.jpg" alt="Amanda Gibbs '16" title="Amanda Gibbs '16" class="lw_image" width="242" height="242" data-max-w="227" data-max-h="170"/></a></span></span><div class="quote"><p> "I am fascinated by the brain and how it works (or in some cases, fails to work) as well as the mysteries that have yet to be solved."</p></div><a class="recruit-link" href="/live/profiles/167-amanda-gibbs-16">Amanda loves working with the professors at Lake Forest College who make learning far more than merely tests and grades</a>
<span class="lw_profiles_image"><span class="lw_item_thumb"><a href="/live/profiles/165-maiwase-tembo-15"><img src="/live/image/gid/18/width/242/height/242/crop/1/src_region/0,0,225,169/22560_14779_wase_tembo.rev.1410538079.jpg" alt="Maiwase Tembo '15" title="Maiwase Tembo '15" class="lw_image" width="242" height="242" data-max-w="225" data-max-h="169"/></a></span></span><div class="quote"><p> "Through the neuroscience program, I believe that I will be geared for medical school and a bright future."</p></div><a class="recruit-link" href="/live/profiles/165-maiwase-tembo-15">Maiwase is fascinated by how powerful the brain is. </a>
<span class="lw_profiles_image"><span class="lw_item_thumb"><a href="/live/profiles/2311-fezokuhle-khumalo-17"><img src="/live/image/gid/18/width/242/height/242/crop/1/src_region/0,0,2048,2048/35085_15875264_1190287024389909_4436694404019152264_o.rev.1483990494.jpg" alt="Fezokuhle Khumalo '17" title="Fezokuhle Khumalo '17" class="lw_image" width="242" height="242" srcset="/live/image/scale/2x/gid/18/width/242/height/242/crop/1/src_region/0,0,2048,2048/35085_15875264_1190287024389909_4436694404019152264_o.rev.1483990494.jpg 2x, /live/image/scale/3x/gid/18/width/242/height/242/crop/1/src_region/0,0,2048,2048/35085_15875264_1190287024389909_4436694404019152264_o.rev.1483990494.jpg 3x" data-max-w="2048" data-max-h="2048"/></a></span></span><div class="quote"><p> "Having declared a minor in neuroscience, I realized that I like learning about the most complex organ and all the networks connected to it."</p></div><a class="recruit-link" href="/live/profiles/2311-fezokuhle-khumalo-17">A biology major with an interest in human genetics, Fezokuhle enjoys learning about the biology behind psychology.</a>
<span class="lw_profiles_image"><span class="lw_item_thumb"><a href="/live/profiles/2347-danne-duncan-04"><img src="/live/image/gid/59/width/242/height/242/crop/1/src_region/0,0,230,238/35513_21817_duncan.rev.1486489373.jpg" alt="D'Anne Duncan '04" title="D'Anne Duncan '04" class="lw_image" width="242" height="242" data-max-w="230" data-max-h="238"/></a></span></span><div class="quote"><p> "Lake Forest College offers its students an intensive curriculum as well as individualized mentorship, which prepare its students for various post-bachelors career choices, such as obtaining a PhD."</p></div><a class="recruit-link" href="/live/profiles/2347-danne-duncan-04">D'Anne Duncan '04 learned a lot during her internship at RFUMS.</a>