Saul Bello Rojas '16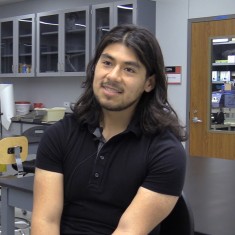 Class Year
2016
Area(s) of Study
Neuroscience 
Hometown
Atlanta, Georgia
Co-curricular
Lambda Chi Alpha Quantitative Resource Center Tutor
Current Job
Saul completed a post-baccalaureate PREP program at Northwestern University and is now pursuing his PhD In Neuroscience at Washington University St. Louis.
"

Lake Forest College gave me the foundation to spearhead my career.

"
Why did you choose Lake Forest College?
I chose Lake Forest College because of the neuroscience program and the professors. At the time, the College was one of the few schools that offered a neuroscience major. But the fact that Lake Forest professors have a bond with their students really solidified my decision to come here. I wanted to have that close-knit relationship with my professors. I didn't want to be a single student in one section of a 200-plus class. In my sciences classes here, there were about 10 to 15 students per class. You know you'll get specialized of attention in a class that size. If I had questions, I could go to my professors. Two years after graduating, I still keep in touch with my professors. The professors really care about their students here. If a student doesn't know what they want to do, professors can give them advice about their potential career paths, classes to take, and alternatives they may have never considered.
What is one of your fondest memories at Lake Forest College?
Following my first year, I did research for a professor as, essentially, a research technician, which was important because you need to do research to get into medical school. I was doing research on Parkinson's disease and training other students in the lab my four years here. I was a peer-mentor for one of the introductory neuroscience classes my sophomore year. They called me "dad," and by my senior year I was their "great grandpa," because my mentees had their own mentees, who then had mentees of their own. It's funny when you come back and see the family tree grow.
What was your first job out of college?
After graduation, I worked for a year at Northwestern University for the ophthalmology department studying the disease ALS. It was after I changed to a motor neuron lab, studying a zebrafish model, that I realized motor systems were the one thing I wanted to base my graduate career on. In fall of 2017, I started applying for graduate schools. I applied to eight graduate schools and got interviews at all eight. Some of those including Washington University in St. Louis, Northwestern University, Berkeley, University of Pittsburgh, University of Michigan. Luckily, I was accepted into all eight.
How did Lake Forest College help pave your way in pursuing a career?
I chose Washington University in St. Louis because I felt it was the best fit for me in terms of research and environment. One good thing about it was that it reminded me of Lake Forest College. The campus is very similar, both beautiful, and the connection that I made with mentors was similar. That connection truly solidified my decision to go to that school for my graduate studies and ultimately get my PhD in neuroscience. Eventually, I hope to open up my own lab and understand better how sensory integration is distributed throughout motor systems.
What was the most valuable lesson you learned at Lake Forest College?
Lake Forest College taught me that you are going to fail in science. The scientific process and the instruments we use to collect data are flawed. When you pursue science at a graduate university, you will realize that even though we strive for perfection, it is not going to happen. Because I realized this early on at Lake Forest College, I was able to collect myself and push myself to persevere when my experiments weren't working. Additionally, having the opportunity to work with a variety of people right off the bat and seeing how a lab environment actually functions was a great lesson learned at the College. I think that's one of the reasons people were impressed by my maturity and that I knew what it was like to be a scientist during my interviews. It was really noticeable compared to some of the other applicants who may only have had one or two experiences or none at all.