Sam Gascoigne '20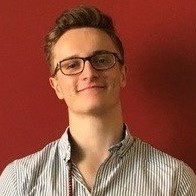 Class Year
2020
Graduate Study
Sam is a Barry Goldwater Scholarship recipient and is pursuing his PhD studies at Oxford University (U.K.)
Why did you choose Lake Forest College?
I chose Lake Forest College for two reasons. Firstly, the small class sizes and amiable professors allowed me to visualize learning and enjoying my 4 years of undergrad. Secondly, the culture of research within the science departments, where students can get involved in primary research in their first-year, allowed me to see a future in science outside a textbook.
What attracted you to the Neuroscience major?
To put it simply, the neuroscience major does not close doors; it opens them. As a freshman, I took Dr. DebBurman's Medical Mysteries of the Mind class (FIYS106). While a high school science class can stick you in a textbook and only let you out at the end of term, FIYS106 ebbed and flowed between neuroanatomy, neuroethics, presenting primary literature, teaching and more. After taking FIYS106, I realized a neuroscience major at Lake Forest College is a highly interdisciplinary track spanning courses from molecular neuroscience all the way to philosophy of the mind. So, I signed on the dotted line and became a Neuroscience major – I am glad I did.
What are your career goals and how did the Lake Forest College helping you achieve these goals?
My career goal is a product of my time at Lake Forest College. For my 4 years in Lillard (the science building), I was always doing some form of research. Simply put, research was as much a part of my Lake Forest College experience as my courses. With these years of experience and realizing a passion, I naturally came to my career goal: to continue in academia and eventually become a professor with my own lab. As direct as this goal may be, I am certain I would not be on this path without my time at Lake Forest College.
How have the opportunities at the College helped shape your college experience?
There are a multitude of opportunities at Lake Forest College courtesy of both the College and the conscientious mentorship of advisors and professors. Looking back, all of my opportunities, whether they were in or out of College, were offered by thoughtful professors thinking with my academic development in mind. From teaching to scholarships to research opportunities, all of these possibilities came to light because professors at Lake Forest College go above and beyond for their students.
What are some standout moments for you as a neuroscience major?
Going to professors' houses (really humanizes them)
Going out for drinks after brain awareness week (always necessary)
K-6 outreach (a day of teaching kids about the brain, very wholesome)
First time I understood what people were talking about at a conference (a very good day)
The plate race (if you are on campus during the summer, highly recommend)
What advice would you give to a high school student looking to pursue neuroscience and is considering Lake Forest College?
Do it. I could be hand-wavey and say, "consider your options and fit," but no. I have been fortunate since graduating to meet a lot of talented scientists who studied life sciences at leading universities around the world; and when I discuss our educational experience, LFC is far superior. Choosing a college is a tough decision; no matter what you will always worry that the grass is greener somewhere else. Thankfully, I can say it is greener at LFC.
What is your current position or field of postgraduate study?
Position: PhD student in the Zoology Department at the University of Oxford.
Fields: Life-History Theory/Evolutionary Ecology/Population Demography