Danielle Sychowski '19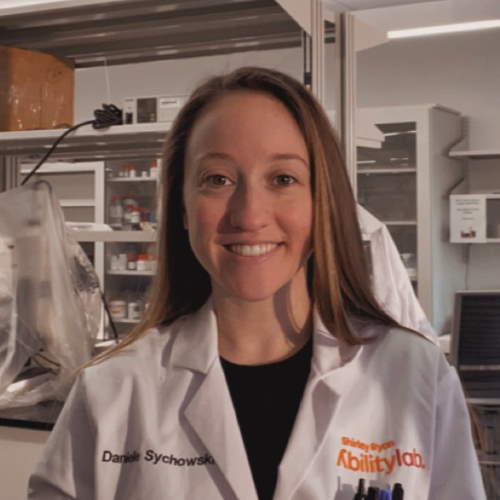 Class Year
2019
Area(s) of Study
Major in Neuroscience, Minor in English
Hometown
Bellevue, Illinois
Graduate Study
Post-baccalaureate Certificate
Advanced Studies in Biology for the Health Professions, Northwestern University
Current Employment
Danielle conducted research at the college and Rosalind Franklin University and planning for medical school while working at the Shirley Ryan Ability labs
Why did you choose Lake Forest College?
I chose Lake Forest because I had the opportunity to continue my career as a softball player at a school that also focused on the "student" part of being a student-athlete. There were many support systems in place, such as tutoring and the availability to meet with professors 1 on 1. I was also excited about how close Lake Forest is to Chicago and all the opportunities that presented.
What attracted you to the Neuroscience major?
Coming into college, I knew I wanted to study the sciences. I always had an interest in the brain, but after taking the Medical Mysteries of the Mind first-year studies course, that only solidified my interest. The variety of courses offered towards the neuroscience major was also something that helped in my decision to become a neuroscience major, as it seemed that neuroscience just connected with everything else, from psychology to a few English courses I took. I think that is part of the beauty of receiving a liberal arts education.
What are your career goals and how did Lake Forest College helping you achieve these goals?
My goal is to become a physician and hopefully have some sort of focus on helping veterans. My time at Lake Forest connected me to people who could offer clinical and research experience, both of which are necessary when applying for medical school. The Career Advancement Center also was one of the greatest resources I had at my disposal, as they helped me find new opportunities such as my job as a research technician at the Shirley Ryan Ability Lab in Chicago.
How have the opportunities at the College helped shape your college experience?
I think the guidance and opportunities I had during my time at the College and even after has been incredibly helpful. Having a Forester Guide during orientation before freshman year officially starts was very helpful in navigating the transition from high school to college life. I was also lucky because my Forester Guide was ultimately a neuroscience major and helped guide me through what that was like even after orientation! The opportunities were endless for me, even as a student-athlete. I got to participate in research, volunteer, and have an on-campus job starting my freshman year. These all helped me network and set myself up for success in my later years.
What are some standout moments for you as a neuroscience major?
While it often felt like the most challenging week of the year, Brain Awareness Week is something I look back on fondly now. I went from presenting our group project with my first-year studies course to eventually helping to organize and coordinate the week as co-president of Synapse. Along with that, all the community outreach and engagement we did. One of my favorite days of the semester was when we put together a day for 3rd graders to come to the College and learn about neuroscience. I also won't ever forget our multiple goal-breaking fundraising years for the Walk to End Alzheimer's. The neuroscience program allowed me to grow as a student and a leader - though it came with its challenges, the rewards were more than worth it.
What advice would you give to a high school student looking to pursue neuroscience and is considering Lake Forest College?
If it's something you even have a slight interest in, pursue it. There are so many ways neuroscience connects to other sciences, so odds are you'll find your niche. I think that the comradery, support, and overall community of the neuroscience program is unmatched at Lake Forest College. People who I worked on group projects with during my freshman year ultimately became some of my best friends throughout the rest of my time at the College. Things will feel challenging at times, but these challenges will help better you as a student (through presenting, writing papers, etc), even if that doesn't feel like the case right away.