Charles Alvarado '16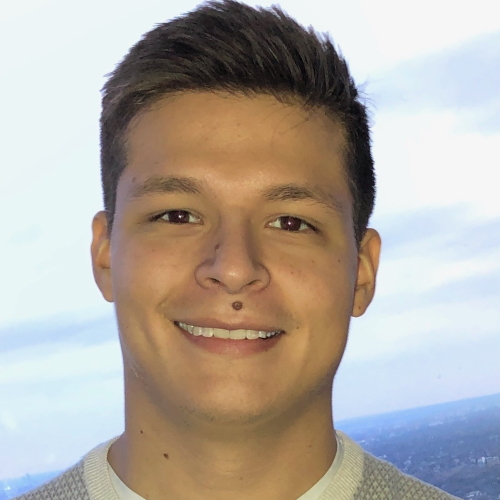 Area(s) of Study
Majors in Neuroscience and Education
Hometown
North Chicago, Illinois
Current Job
Charles also got his M.A.T. degree from the College and is now pursuing a PhD in Educational Neuroscience at Penn State University
Why did you choose Lake Forest College?
Lake Forest College offered me the opportunity to get a great education. When looking for schools, I wanted to make sure they had a great science program, professors that collaborated with their students, and opportunities to participate in real research. LFC checked all the boxes and allowed me to stay close to home.
What attracted you to the Neuroscience major?
As an incoming freshman, I knew that I wanted to earn a degree in the sciences, but I wasn't sure what field. I took a course with Dr. DebBurman my first year at LFC that introduced me to the brain and how it's structured and functions. I knew I wanted to research the brain and earn a Neuroscience major when I came away from that class with more questions than I had going into it. I realized the potential benefits from brain research necessitates exploration. I believe Neuroscience will continue to open doors to new opportunities, in a practical manner, in many fields of research, industry, family, and education.
What are your career goals and how did Lake Forest College help you achieve these goals?
Upon graduating with my Neuroscience degree, I stayed an additional year at LFC to earn my M.A.T. so that I'd be able to teach in public schools in Illinois. My experiences in Dr. DebBurman's lab and in the Biology department, where we were encouraged to mentor students who are in their earlier years of college, was invaluable to my preparation as a teacher. Not only was I prepared with good content knowledge, but I was also comfortable relaying information in a digestible manner that catered to my audience.
My current career goal is to complete my doctoral studies and potentially find a position in academia to serve as a professor or enter the realm of education policy. Because of my training and education at LFC, and my experiences as a teacher, I feel well prepared to pursue this goal.
How have the opportunities at the College helped shape your college experience?
I can't imagine being in the same position I am now if I would have attended a larger school. The small college environment offered me many opportunities to interact and be mentored by professors that were willing to invest in my education. I knew several of the professors in the department, and more importantly, I felt as though they had a chance to get to know me as well. When I requested a letter of recommendation from professors for my teaching position and graduate school, I felt comfortable that they would be able to give an accurate description of me because of the relationships we established during my college years. Additionally, having access to opportunities to attend and present at national conferences, be part of a research lab, and interact with students at different stages in their education were invaluable to my professional development. I look back glowingly at my experiences at LFC.
What are some standout moments for you as a neuroscience major?
The neuroscience department does a great job of exposing its students to real science and to research labs in the Chicagoland area. I remember several instances where we visited distinguished research labs at NU and RFUMS, where senior researchers presented their work to us. Also, during a poster presentation I gave along with a peer of mine at the Society for Neuroscience National Conference in Chicago, we were able to present our work to a leading researcher in our field. We were able to ask questions about some of the papers we read of his and have a short conversation about the implications of our work. It made the experience of conducting research worthwhile.
What advice would you give to a high school student looking to pursue neuroscience and is considering Lake Forest College?
There are aspects to the sciences that are incredibly detailed, time-consuming, and difficult to perform and understand. I would advise them to find a mentor that is willing to put the time into their training and education as a scientist. If they can find a suitable mentor, I would further advise them to become a sponge and bring a notebook to every meeting.

Fortunately, at LFC, most professors are willing to take up the mantle. Though I had one primary mentor, professors from other fields were willing to contribute to my development as well. There's a hidden curriculum in college that a mentor can help uncover.
What have you done since graduation? And what is your current position or field of postgraduate study?
Upon leaving LFC, I worked as a registered behavior therapist who worked with exceptional children. Afterward, I became a middle school science teacher in Waukegan, IL for two years. Currently, I'm a first-year graduate student at Penn State University studying Educational Psychology. My studies will focus on describing the impact that experiences with maltreatment have on students' learning and development.