Kimberly Diah '13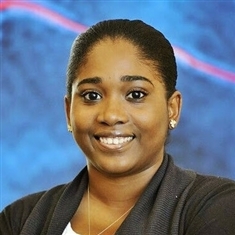 Class Year
2013
Area(s) of Study
Majors in Neuroscience and Psychology
Hometown
Iowa City, Iowa
Current Job
Postdoctoral Fellow in Clinical Neuropsychology
University of Iowa
Graduate Study
Kimberly completed her senior thesis at Rosalind Franklin University, conducted post-graduate research at the Max Planck institute, and her MS and PhD degrees at Nova Southeastern University.
Why did you choose Lake Forest College?
As a native of a small Caribbean island, Lake Forest College appealed to me because of its size and the diversity of its programs. It was small enough for me not to feel lost but large enough to allow me to develop my independence and get a well-rounded education.
What attracted you to the Neuroscience major?
Starting out my college career, I didn't really have a sense of what neuroscience was. I knew I wanted to study psychology and I knew I was fascinated with brain-behavior relationships. I remember taking an introductory biology course, "Exploring the Brain," the spring semester of my freshman year and I do have to say this is where my interest peaked even further in wanting to have a deeper understanding of the brain and its role in cognition and behavior. I was also impressed with the broader community impact the neuroscience program had/has within LFC, such as organizing events like "Brain Awareness Week." I can recall how surprised and delighted I was at the level of research that was achievable at the undergraduate level when I attended one of my first research symposiums. The interdisciplinary nature of neuroscience and how well it integrates with psychology was also a driving force in deciding to double major in neuroscience and I knew I wanted to be a part of this academic community.
What are your career goals and how did the Lake Forest College helping you achieve these goals?
My career goal is to become a board-certified clinical neuropsychologist working in an academic medical center where education, research, and clinical care are combined to provide the best quality of care to patients. I have always thrived in a multidisciplinary and collaborative environment and this was borne from my time at LFC. Not only did LFC help put me on my current career trajectory by introducing me to the field of neuroscience, it also fostered a burgeoning love of academic collaboration and instilled in me a strong work ethic that has continued to serve me well in my endeavors.
How have the opportunities at the College helped shape your college experience?
The superior academic learning experiences, summer internships, research fellowships, peer mentorships, outreach efforts, extracurricular activities, volunteer opportunities, opportunities to present innovative research to broader scientific communities and the general public are just some of the opportunities I was afforded while at LFC. Each of these opportunities served to help foster invaluable skills that laid the groundwork for success in my current professional pursuits.
What are some standout moments for you as a neuroscience major?
There are too many to list, but my absolute top three standout moments were meeting Nobel Laureate Oliver Smithies and other famous scientists like Eric Kandel and Susan Lindquist; receiving the first ever Nu Rho Psi Senior Leadership and Service award, and having my parents travel all the way from Jamaica to see me present at the NeuroFrontiers Workshop. It was definitely a treat to have them see me role-play a famous scientist as well as present my own work from my senior thesis.
What advice would you give to a high school student looking to pursue neuroscience and is considering Lake Forest College?
Neuroscience is an exciting field of study that can provide various and exciting career paths. I think it's one of the best areas of study because it intersects so well with so many different disciplines such as psychology, medicine, computer science, and engineering. As one of the earlier cohorts of LFC's neuroscience program, I can vouch for the soundness and effectiveness of the program and how much the program has continued to evolve and ascend over time. I would be remiss if I didn't mention the number one aspect that sets LFC's neuroscience program apart from so many others and that's the quality of faculty attention and mentorship. The ability to have one-on-one mentorship and form relationships with professors in an interdisciplinary setting truly helps to foster one's own professional development. This, for me, truly was an invaluable experience to have.