Jessica Dudley '14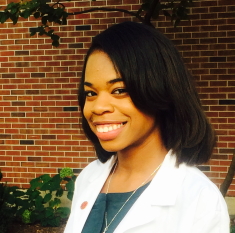 Class Year
2014
Area(s) of Study
Major in Neuroscience Minor in Philosophy
Hometown
Chicago, IL
Graduate Study
MSN in nursing, DNP Advanced Population Health
Current Job
Jessica received her MSN and DNP degrees from the University of Illinois at Chicago and she is now and Advanced Population Health Nurse Practitioner at University of Illinois Health Systems
Lake Forest College Alumna Jessica Dudley talks about her experience at the College.
What do you think of the new Health Professions Program between LFC and RFU?
I am so EXCITED about this new program. (I wish I was there now). I think this program will help students really jumpstart their careers and begin making an impact earlier. 2. Bring even more networking opportunities 3. Save money. In terms of nursing, there is a nationwide shortage of nurses (especially nurses with advanced degrees) and this will alleviate that shortage- narrowing a gap in disparities across the nation that plague so many underserved residents.
What made you choose Lake Forest College?
Lake Forest College had small class sizes, which for some will be the make or break in their success. I liked that my professors were accessible and really rallied for my success. Also, financial aid is a major determinant in some people's decision for college. The Lake Forest College Financial aid department educated me from the beginning about ALL options to help pay for college.
How did a liberal arts education make a difference for you?
The liberal arts aspect is what really makes it worthwhile. Some folks go to college knowing what they want to do, and others go not knowing. The liberal arts aspects melded different departments and helped spark creativity in me, that helped me carve out specifically the job I wanted and the impact that I wanted to make in society. I remember I attended a talk about mirror neurons and neuroscience that was put on by the theater department. THAT is the Liberal arts aspect.
What experiences outside of the classroom do you think helped prepare you for nursing school?
Participating in research labs in summer helped me learn peer review processes, and the scientific method, as well as the importance of networking. Athletics helped understand the importance of a healthy lifestyle, while the different cultural clubs helped me learn about important social justice topics that are essential to working as a health professional.
How did your time at Lake Forest help you prepare to apply to nursing school programs?
Having faculty that helped guide in the appropriate classes to take and network with an array of health professionals helped me understand the difference, for example, between the medical model and the nursing model. Then meeting with various nurses across specialties and really break down the application process with faculty helped me understand which programs fit my lifestyle; this included location, class sizes, their impact on social determinants etc.
What skills and experiences at Lake Forest do you believe will help you be successful?
Being open minded, taking electives that are science geared (philosophy, arts, etc), participating in summer research, participating in clubs that YOU LIKE, and maintaining good relationships with faculty.n
What advice would you give a high school student looking to pursue pre-health and is considering Lake Forest College?
NETWORK NETWORK NETWORK. Talk with faculty, do informational interviewing and volunteer. Also make sure that self-care and self-love is implemented in your routine.