Chisomo Mwale '19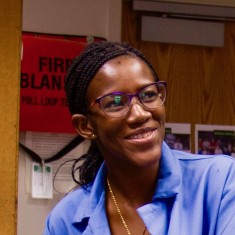 Class Year
2019
Area(s) of Study
Neuroscience major Chemistry minor
Hometown
Zambia
Co-curricular
UMOJA
Eukaryon, award-winning research journal
Achievements
Nu Rho Psi Honor Society
Senior 25
Current Job
Chisomo is a Clinical Research Coordinator in the Department of Ophthalmology at Northwestern University and is planning for PhD studies in global health.
Why did you choose Lake Forest College?
I didn't really know what to look for in a school when I was conducting my college search. The high school I went to gave students a list of schools within the US that we could apply to. Lake Forest College struck out to me because of its name. The idea of going to a school with both a lake and a forest sounded quite ideal. Of course, I went to the school's website to do some more thorough research on the school. I knew I wanted to study biochemistry or neuroscience and even though biochem wasn't a major at the time I was applying, I was still drawn to the opportunities science students could access such as the Richter Scholar program. I applied to other schools, but ultimately chose Lake Forest because of the financial aid, proximity to Chicago and research opportunities.
What attracted you to the Neuroscience major?
I was already drawn to the neuroscience program after seeing and reading stories of students presenting their research from the LFC website. Fortunately, I was placed into my first choice for First Year Studies class, which was Medical Mysteries of the Mind. That class really solidified my desire to become a neuro major.
What are your career goals and how did the Lake Forest College helping you achieve these goals?
Currently, I am hoping to pursue a career in public or global health. My goal is to have a career that sees me working with healthcare systems in developing countries.
How have the opportunities at the College helped shape your college experience?
I definitely tried to utilize as many opportunities as I could I LFC. As a result, I became a leader on campus and engaged with many people. What are some standout moments for you as a neuroscience major? Going to the brain bank during first year studies! It's hard to top seeing human brains for the first time. Also, working on group projects. Not all the groups I worked with were great but I made some my closest friendships because I was in groups with them.
What advice would you give to a high school student looking to pursue neuroscience and is considering Lake Forest College?
The neuro major is definitely not the easiest one out there. You may realize you want to pursue it a little later on in your college career or you may initially think you want to pursue it but then change your mind after taking a class. Whichever route you take is fine. I know the transition from high school to college is extremely stressful so just take it one day at a time. Take classes you have an interest in and occasionally take classes that wouldn't normally appeal to you. You never know what the outcome will be! If you do decide to take on the neuro major, make sure you find a good balance of classes and extracurricular activities and reach out to the faculty if you ever have questions. They are there for you and usually give out good advice.
What is your current position or field of postgraduate study?
My current role is a clinical research coordinator in the Ophthalmology department at Northwestern University's Feinburg School of Medicine.