Previous Programs and Initiatives
Student Information Sessions
Meet key stakeholders and attend a Title IX information session to learn more about the new Tilte IX sex discrimination and gender-based harassment regulations. A Zoom link will be shared closer to the event dates and students can join using their student login and passwords. Download the flier
Monday, October 5
4:00–5:00 p.m.
Thursday, October 8
Noon–1:00 p.m.
Tuesday, October 13
Informational session and Q&A
5:30-6:30 p.m.
New Title IX Regulations Released, May 6, 2020
The campus has learned of the release of the long-awaited Title IX federal regulations. We are reviewing the new regulations and will share additional information with the campus through various avenues, as we evaluate how this will impact our campus. View the campus message here.
Sexual Misconduct, including sex, gender, gender identity or sexual orientation harassment, non-consensual sexual penetration, non-consensual sexual contact, sexual exploitation, domestic violence, dating violence and stalking, is strictly prohibited at Lake Forest College.
The White House Issues Proclamation on National Sexual Assault Awareness & Prevention Month: Read the Proclamation here.
Among undergraduate students, 23.1% of females and 5.4% of males experience rape or sexual assault through physical force, violence, or incapacitation. (AAU et. al, 2015).
Contact Information
LaShun McGhee
Title IX Coordinator
847-735-6009
lmcghee@lakeforest.edu
Virtual Hours:
By Appointment.
If you are in an emergency situation, dial 911 for local, non-college law enforcement and medical assistance. You may also dial the College's Public Safety Department at 847.735.5555 (on-campus at 5555) to connect you to the local police.
April is Sexual Assault Awareness Month
---
____________________________________________________
National Crime Victims's Rights Info April 19-25, 2020

Visit the awareness page for National Crime Victims's Rights info April 19-25 and other prevention and awareness information.
Denim Day-Get Involved. Visit Title IX awareness page.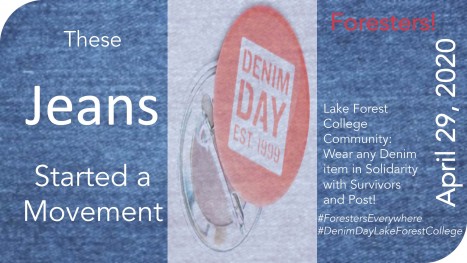 Previous Campus Awareness Programming
Sexual misconduct is a form of sex discrimination prohibited by federal and state anti-discrimination laws. Some forms of sexual misconduct also violate the criminal laws of the State of Illinois. Sexual misconduct can occur between strangers or acquaintances, including people involved in an intimate or sexual relationship. Sexual misconduct can be committed by a person of any gender identity, and can occur between people of the same or different gender identities. You can access the College's complete Sexual Misconduct Policy and Resources here.