Tim Gruzwalski '11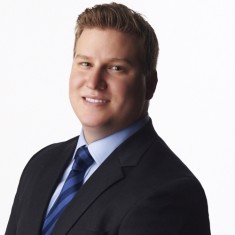 Class Year
2011
Area(s) of Study
Art Major and Communication Minor
Co-curricular
Varsity Football Player
Student Academic Advisory Committee
Graduate Study
MS Integrated Marketing Communications, Northwestern University
Tim Gruzzwalski '11 combines his studies in art and communication in his role as a marketing coordinator and graphic designer at Colony Brands, Inc.
Why did you decide to major in art and art history?
I majored in studio art because I had a passion to create compelling artwork and wanted to develop my skills as an artist and communicator.
What was your most memorable course and why?
My senior seminar course with Professor Karen Lebergott guided me into becoming the creative person I am today. Her class taught me how to think through various issues, absorb constructive criticism, and apply that towards my work to engage the audience more effectively.
Was there a particular project or assignment that was especially rewarding or important for you?
One project that vividly stands out was from Professor Eli Robb's sculpture course. I deconstructed a 12-pack of New Castle beer by crushing the bottles and tearing down the packaging to create one large New Castle beer bottle. The reconstruction process tested my patience as I carefully selected the right pieces to use until I finally reused every piece to create the final sculpture. 
I reflected a lot during that project and I think the reconstructive process of the bottle helped me become more thoughtful and insightful today especially in how I approach life's toughest challenges.
How did your art and art history major prepare you for graduate studies and your career?
My degree from Lake Forest College prepared me for both my professional career and graduate school because of the small classes that fostered strong communication and mentorship with professors throughout my career.
How did your art-related internship prepare your career path?
The Career Advancement Center has been an amazing resource. They connected me with the employer I have now. I've been with the One Step Ahead brand since 2011. The position started off as a three-week contracted job and turned into a full-time job. I strongly suggest that students take their resumes to the CAC and work with the awesome staff.
How would you describe your transition from Lake Forest College to post-graduate life?
My journey has been pretty linear since graduating. I would say to students that it's all about timing and taking chances that put your career in a better position, not only today, but down the road as well. I wanted to work a few years and learn how to work with others in the "real world" before going back to graduate school.
What advice do you have for current or prospective students considering study in art and art history?
In today's vastly changing marketplace, don't limit yourself to just one skill set. Lake Forest students need to "build" a wide range of skill sets now because the future holds a much more integrated approach to real world business issues. As a result, many companies are fostering a collaborative, less departmentalized approach, and I think the College and the degrees it offers prepares students for businesses of the 21st century along with career sustainability.