English and Creative Writing
Mark Shadle '84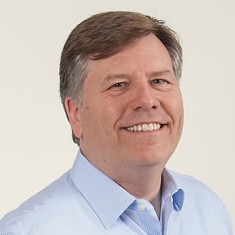 Class Year
1984
Area(s) of Study
English and French
Current Job
Zeno Group, Managing Director Corporate
I have spent my entire career in the public relations field, working at two agencies – first Edelman and now Zeno Group. Today I focus on corporate communications and I help our clients to tell their success stories, market their products and, when necessary, navigate through crisis situations. The public relations industry has changed dramatically in so many ways during my career, most recently with the growth of social media, video and mobile communications, but it is that evolution that has made it easy for me to stay in the business.  Each time we win a new client assignment, I feel like I have a new job.
How did you choose your area of study?
I came to Lake Forest College interested in English as a potential major and thought I might want to be a journalist.  From my very first semester I was hooked.  I was fortunate to have amazing professors who all shared three traits – a love for good writing, a passion for English literature, and the ability to bring the subject to life for students in every class.  
How has your English major or study of English helped you in your career?  Do you think the skills you developed as an English major helped you obtain a job?  Do you use those skills in your current work?
I became a writer at Lake Forest. Leading up to graduation, I knew there were many possible career paths for a writer, from traditional journalism to advertising, public relations and marketing.  Writing was the key to getting my very first role (a writing test is standard for entry level public relations jobs) and I'm happy to say I write every day.  Equally important, my English major taught me about the important elements of storytelling, structure and tension.  I use all of these tools today when I'm helping corporate executives create a company narrative that can make an authentic connection with their employees and customers. 
What was most enjoyable/memorable about studying English at Lake Forest College?
By the end of my sophomore year I had decided on a writing concentration for my English major. The weekly one-on-one meetings with my professor, talking about my work and the craft, are among my fondest memories. I also did a semester-long independent study project with Professor Ken Bennett on the Romantic poets. To this day, I'm amazed that a professor would devote so much time to one student on a single topic.  It's an experience I never would have had at a big university
More information to share?
Has the study of English impacted your life beyond the job? If so, how?
Lake Forest gave me my first taste of live theatre in Chicago, primarily through several English department field trips into the city. My family and I still love to spend our spare time at the theatre.