Modern Languages and Literatures
Katelyn McAuliffe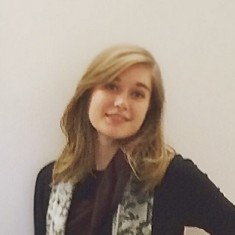 Class Year
2015
Area(s) of Study
Majors: International Relations and French
Minor: Social Justice
Hometown
Richmond, Maine
Internships
Mona Bismarck American Center for Art and Culture in Paris, France
Current Job
Strategic Consulting Team Administrative Analyst
Cushman & Wakefield in Chicago
How did you choose your area of study?
I followed my gut – I knew that my education was incredibly important to carrying me further in life. This didn't mean I chose the majors I thought would just enhance my career: I chose subjects that I thought would further empower me to create the life I wanted. This meant applying myself to things that interested me, knowing that in further developing myself in a positive way, it would help develop my career. It is important how you dedicate yourself to your interests and passions in the pursuit of excellence. If you have the right mentality, establish good habits, there is little you can't learn to do.
Describe a moment or experience you had in college that helped define your career path.
The moment I actualized that my dyslexia wouldn't inhibit me from doing what I love. It was incredibly important to me that I study a language to gain a different perspective. I struggled immensely with the grammar tests and often felt overwhelmed. I wanted to do well and knew that studying abroad was important to me. I never felt that anyone understood me until I met Professor Garneau.
Professor Garneau really helped me believe in myself and that I could overcome my struggles with reading. He made it possible for me to continue onwards and created an environment where I could flourish. I stayed with a major in French because of Professor Garneau. The collective experience of studying French; sticking it out and pursuing my goals relentlessly, helped make me strong enough to persevere and accomplish my goals after I graduated.
What steps did you take in college to prepare for your career?
The point of college is to build your skill set; no matter where you go you will need a set of skills to further yourself. You are expanding your skills when you are in college. I grasped every opportunity that was feasible in my schedule to involve myself in events, courses, extracurricular activities. The diverse amount of situations and people I interacted with allowed me to hone my problem-solving skills and build professional relationships. I use my creativity every day in my present position.