Dr. D'Anne Duncan '04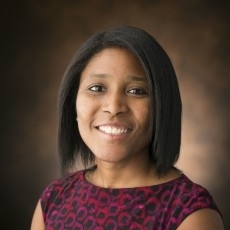 Class Year
2004
Area(s) of Study
Biology Major, Chemistry Minor
Internships
Summer Research Program, University of Chicago. Summer 2002 and 2003; Undergraduate Research Opportunity, Rosalind Franklin University of Medicine and Science, Spring 2004
Graduate Study
PhD in Neuroscience from Northwestern University, 2011
Mentoring Scientists Nationally
D'Anne Duncan '04 has a knack for mentoring others. It's a skill she discovered while majoring in biology at Lake Forest College.
Duncan is the Director of Diversity and Outreach at the University of California in San Francisco in the Graduate Division.
Prior to that, she worked at Vanderbilt University as the program manager of the National Institutes of Health's (NIH) effort to help biomedical scientists directly explore their career options. Seventeen institutions across the United States have received NIH grants through the Broadening Experiences in Scientific Training awards to help scientists do just that. Duncan managed all of those programs.
"I'm responsible for showcasing and promoting the goals and activities of this national effort to educate and empower the next generation of biomedical scientists," she said. That includes designing the national website as well as coordinating the awardees' monthly teleconferences and annual meeting.
"I'm the liaison between the NIH and the 17 awardee institutions and responsible for the national communication of this award with current and future scientists in-training and the biomedical community at-large," she said.
Duncan brings to this role her experience conducting undergraduate research in human genetics at the University of Chicago for two summers and completing an academic-year internship at Rosalind Franklin University of Medicine and Science in molecular neuroscience while studying for her undergraduate degree at Lake Forest.
The Lake Forest grad completed her PhD in neuroscience at Northwestern University, where she received NIH's competitive National Research Service Award predoctoral fellowship to work in neuroimmunology and continued her scientific training as a postdoctoral research fellow studying neuroimmunology and glaucoma at Vanderbilt.
Helping scientists find their path combines her research experience with her time mentoring and tutoring others at Lake Forest. "Those experiences at Lake Forest College exposed me to advising and mentoring younger students," Duncan said. "I figured out I really enjoy and value mentoring."