English and Creative Writing
Biz Hyzy '14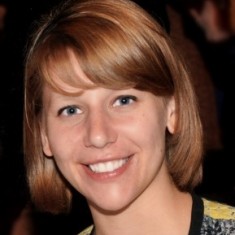 Class Year
2014
Co-curricular
Magna cum laude Phi Beta Kappa. Outside of class, Hyzy worked in the Writing Center and performed in some of the theater department's plays.
Current Job
Editorial assistant for the adult and audio departments at Booklist
After I graduated from Lake Forest, I worked in a bookstore for about a year, but now, I'm an editorial assistant for the adult and audio departments at Booklist, a book review magazine based in Chicago.
If I were to describe my duties, it'd probably sound boring—entering titles into the computer system, mailing galleys, formatting newsletters, etc—but I really love it here. Everyone I work with is awesome and well-read, and it's rewarding to have a direct impact on the publishing industry.
What was most enjoyable/memorable about studying English at Lake Forest College?
My best experience from Lake Forest College was definitely studying literature, theater, and art while abroad in London and Florence. In addition to the thrill of exploring other countries, my on-site studies made everything I learned on campus feel tangible. Frescoes of the characters I'd studied in Ancient and Medieval Lit, for example, appeared all over Italy's museums and cathedrals, so I was able to fuse my lit education with what I was learning about art to come to my own conclusions about Italian culture.
That mindset, in general, captures my favorite part about being an English major—analyzing the history, art, and philosophy of different eras through the writings of those times while at the same time feeling connected to the authors at a human level.
As for my most bizarre memory in the English department, my senior year, Lake Forest celebrated the hundredth anniversary of Marcel Proust's Swann's Way, and some of us performed a modernized version of a Monty Python Proust sketch. My character—a pink-clad cheerleader, whose name I believe was Perstephanie St. Augustine—gave an analysis of his work through interpretive dancing. Although my part was ridiculous, a bunch of scholars asked me about my literary analysis at the reception afterward, which was intimidating (but enjoyable!) to say the least.
Also, a friend and I once sang/rapped, "Rule, Britannia!" in 211, and I still have no idea how or why that happened.
Has the study of English at Lake Forest College impacted your life beyond the job? If so, how?
I have the Writing Center to thank for this as well, but I've learned that part of the essay writing process includes exploring an idea, finding evidence to support that idea, finding sources that challenge that idea, and then synthesizing all that information into a well-rounded argument. In short, I've learn how to be an open-minded, independent thinker, which is what will allow me to pursue my personal goals
How has your English major or study of English at Lake Forest College helped you in your career? Do you think the skills you developed as an English major helped you obtain a job? Do you use those skills in your current work?
I interned at Booklist my senior year of college, which is where I now work, so I'm grateful to have had one opportunity flow so easily into the next. Being well-versed in literature helps me identify the new (and old) trends that appear in the galleys flowing through the office. I'm also confident in my abilities to read critically and write clearly, which are necessary when writing reviews and blog posts.