Modern Languages and Literatures
Angela Lopez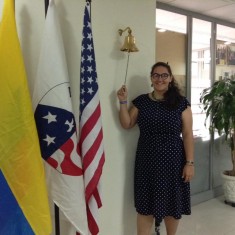 Class Year
2011
Area(s) of Study
Majors: Spanish and education
Hometown
Gurnee, IL
Transferred From
College of Lake County
Internships
Middle School Practicum at Miguel Juarez Middle School in Waukegan, Elementary Practicum in the Lake Forest School District, Student Teaching Warren Township High School
Graduate Study
Attending Arizona State University starting January 2017 for Master's in Non-Profit Management and Leadership
Current Job
Development Coordinator at Boys Hope Girls Hope of Arizona
How did you explore your interests and decide on a major?
While I was attending College of Lake County, I studied abroad in China and got the opportunity to teach an English class. I found that teaching was something I found fun and rewarding and I loved learning foreign languages, so when I got back and started at Lake Forest College I chose Spanish and Secondary Education as my majors.
Describe a moment or experience you had in college that helped define your career path.
Because I was a transfer student and in the highly rigorous major of Education, as well as double majoring, I didn't have a lot of opportunity to do a lot of extracurricular activities besides playing Rugby. My favorite Spanish courses, however, were creative writing and international relations.
What steps did you take at Lake Forest College to prepare for your career?
Lake Forest College prepared me well for a teaching career. I was coached to be skilled in an interview and I had many teaching offers my first year I was available to have my own classroom.
As far as becoming a Peace Corps Volunteer, that was not really on my radar until after I taught for a year and a half. It's absolutely possible to join the Peace Corps right after college and many people do. Personally, I think it's nice to have a few years of real work experience before joining, but getting a real job also makes joining the Peace Corps harder because you have to take a cut in pay and bcause you have to drop everything when you feel like you've already gotten the ball rolling. And in my case I found it difficult to return to what I was doing before Peace Corps like it never happened, so I have decided to go into development in relation to education as opposed to being a classroom teacher.
What would you recommend Lake Forest College students considering a career in your field do to prepare? 
I think it would be highly beneficial to find a place where you can have conversations and use your foreign language outside of the classroom. I also highly recommend studying abroad even if you are not studying "international relations." Studying abroad makes you a more competent human being and citizen of the world and companies and organizations love it.
How did the Forester community give you an edge on taking your first steps after graduation?
When majoring in Education the department really takes control of preparing you for your future. They prepared me for everything: where to find jobs online, how to apply, how to interview well, and how to write good philosophies of education. The Spanish department made sure to offer a variety of classes that would better prepare me to be a good Spanish teacher, like Advanced Grammar.
What have you found the most rewarding in your career and life after graduation?
I find it rewarding that I have been able to do more with my degree than what I originally intended. I left Lake Forest planning to be a teacher and it took me to the classroom, then to Peace Corps in Colombia and now to Arizona to work for Boys Hope Girls Hope as their Development Coordinator.