Local History Center 50th anniversary features student-curated exhibit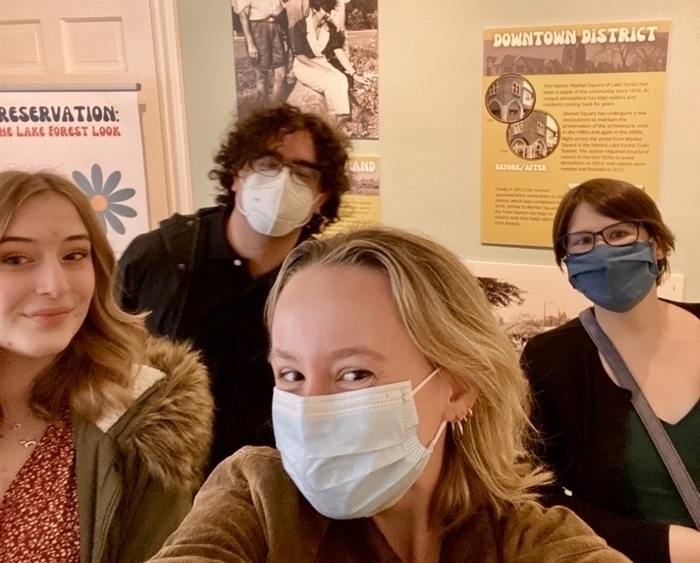 A museum retrospective curated by Lake Forest College students will be on full display during the History Center Lake Forest-Lake Bluff's 50th birthday bash on June 17.
Visiting Assistant Professor Jessica Criales provided her students with a real-life museum curating experience in her spring semester History 368: Museums and Exhibitions class.
Their resulting exhibit, "50 in Focus: Snapshots in Life from Lake Forest and Lake Bluff, 1972–2022," opened May 6 and will be on display through early September at the History Center, 509 East Deerpath, Lake Forest. The exhibit showcases stories, photographs, and artifacts from Lake Forest and Lake Bluff over the past 50 years.
"To create an honest-to-goodness exhibition, that's phenomenal," Criales said of what this experience offered her students. "I was pretty intentional about thinking through how this would set them up for the future."
Criales divided her class into four groups and let each choose from a set of four real-life museum roles—project manager, lead author, lead researcher, and evaluation specialist. Students worked in those roles throughout the semester to create the exhibit.
As a result of working on a real-life project, her students "can put that role on their resume and talk about how they led a particular part of this project," Criales said. "This is huge for students."
Over the semester, Criales saw the mindset of her class change. Students evolved from researching and writing about things in order to complete an assignment to working with a professional historian's mentality. "I was really excited to see that development," she said.
Elise Blochwitz '23, a double major in art history and French, gained new insight into a career after college while working as an evaluations specialist on the exhibit project. "Conducting surveys, analyzing those surveys, putting together presentations, and presenting—it's a pretty cool job," she said.
While Blochwitz, who hopes to attend graduate school and study information sciences, doesn't envision a career in curation, she is certain that this experience will help her immeasurably going forward. "This was such a unique opportunity and a great accomplishment," she said. "By having this experience on my resume, I will have a bit of a leg up over other people who might be applying for the same graduate program or the same job."
The "50 in Focus" exhibit is open to the public during the History Center's regular hours: 10 a.m.–4 p.m. Tuesdays, Wednesdays, and Thursdays, and 1–4 p.m. Saturdays.
Related Links: