Sam Kaser '15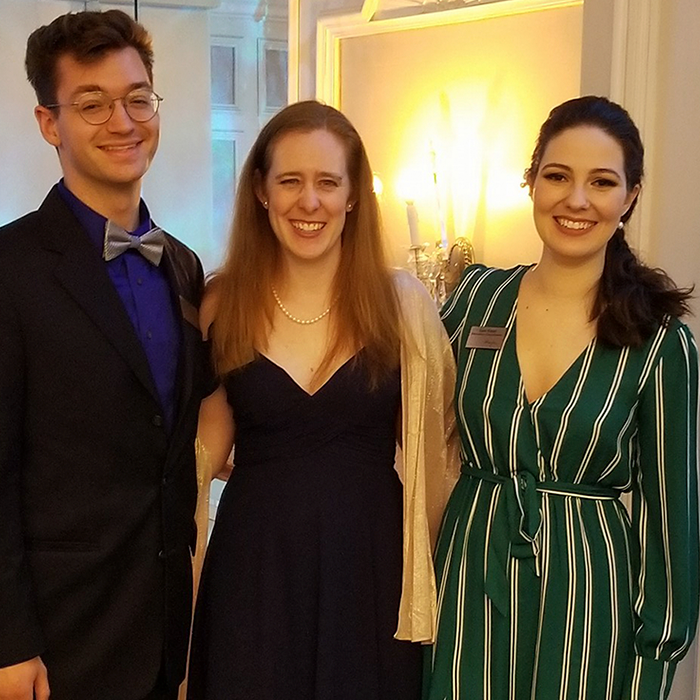 Class Year
2015
Area(s) of Study
Psychology, Theater
Hometown
Seattle, WA
Co-curricular
Garrick Players, Theatre Department Productions, Psi Chi.
Current Job
Patient Care Coordinator, Lactation Network

Trusting the path while helping new parents
What experiences at Lake Forest have you had that you think have been invaluable to your career?
The experiences that I had at Lake Forest College that were most valuable towards my career would be the In the Loop program, the fall of my senior year in 2014. During this time, I was the Kemper Arts Management intern at Victory Gardens Theater, which is a mid-sized regional theater company in Chicago. I learned the ins and outs of all the administrative departments in this theater from development, marketing, finance, and anything else you could think of. Through that position, I ended up having a lot of wonderful professional experiences. When it came time for me to graduate that spring, I saw that one of my former supervisors was hiring at her job at Lookingglass Theater Company in the Front of House Department. I ended up getting that job, and I ended up working there for about five years where I was in front of a house, which included ushering in the box office, house managing, and I also had the privilege of understudying a show there as well. I then moved up into the administrative offices at Looking-Glass, and I actually recently left that position to transition into the medical field. I wouldn't have been where I am now had it not been for the In the Loop program and that internship I had while I was there.
Why Lake Forest?
Why Lake Forest College, for me, would be because the support and celebration of individual interests is absolutely unparalleled. Lake Forest really encouraged me to pursue what I was curious about, and I never felt stuck in one path. All of my advisors and both of my majors, theater and psychology, were very supportive of combining my interests whenever possible. I remember my psychology advisor would often attend the theater productions that I was a part of and that was very special. The staff and the faculty really care about the students as whole people and about nurturing us to become better citizens, I would say. I also attended Lake Forest College because of the diversity of the student body. I met so many people from all over the globe who I now consider friends, and I don't think I would have had that experience at a different school. When I think of Lake Forest College graduates, I think of confident, trailblazing people who really care about making the world a better place.
What college courses have helped you out the most during your career?
The college courses that help me out the most in my career would be Research Methods and Statistics 1 and 2. There are also the most challenging courses that I took at the College. I took them with Professor Kelley, and I was terrified to be taking higher level math classes in college. I didn't do very well in math in high school, but this class was so much more than equations. It helped me learn how to develop a line of inquiry guided by curiosity and how to approach large projects in a way that could be broken down easily and made more manageable. I think most importantly, these classes taught me skepticism and acknowledging internal and external biases when encountering new information, which is a useful skill in any career, I would argue. It's also really applicable to just going about your daily life as you encounter new information.
What is one thing you are most proud of professionally?
One thing I'm most proud of professionally actually happened this past year in 2020 at my position as a Patient Care Coordinator within the Lactation Network in Chicago. This is a company that helps connect new lactating parents with international board-certified lactation consultants all over the country. This past year, the company has grown and increased the number of patients we serve by about 700 percent. Being a part of that was an absolute privilege. Also, I'm so proud of all the wonderful feedback that we've received from all the consultants and new parents. The company helps streamline the insurance billing process so patients and consultants can focus on what's most important. I'm very proud to be part of a company that cares so much about the people it serves
When you look back on your time at Lake Forest, what is one of the best lessons you learned that you've carried with you?
When I look back at my time at Lake Forest College, one of the best lessons I learned, that I'll carry with me, is to always trust myself, trust that there is no wrong path, and trust that I am where I'm meant to be. Also, as long as I pursue what I'm passionate about and rely on my work ethic and my empathy, I really can't go astray.