Study Abroad Student Experience
My name is Annabeth Gibbons, and I am a senior majoring in communications. Studying abroad in Greece was a truly life-changing experience. From exploring the many beautiful islands to eating delicious food every day, my time abroad was everything I could have dreamed of and more.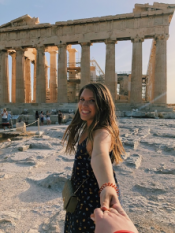 I started my journey towards the middle of March. I went through the Webster University Odyssey in Athens program. It was a little unique because I had the option to stay on campus at Lake Forest College in the first half of the semester, which gave me the ability to finish my handball season. This was ideal for me because I didn't have to miss any tournaments. Once in Greece, I stayed in the Plaka neighborhood in Athens with a bunch of other girls in an apartment. It was so much fun! Our school was only a few blocks away so the commute only took a few minutes.
I took four classes while in Greece. Most of them were about Greek history and culture which I loved. These areas have been something that I've always had an interest in. A great part about my experience was that there was so much support offered at the university. My advisor and professors were so helpful in recommending where we should travel or which restaurants we should try. To this day I am still in contact with some of them!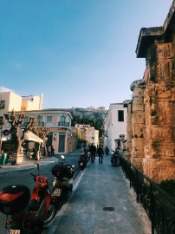 Part of our program consisted of a few weekend trips to different areas of Greece. My favorite was the three island cruise. We went to some of the closest islands to Athens and got to explore them the entire day.
I made some amazing friends while being abroad. My friend Natalie was someone I flew over from the United States with and we instantly bonded. We were able to go on a few trips together. The first one was a weekend trip to see Ancient Delphi and Meteora in Greece. This was through a bus tour which was very helpful because the tour guides were able to give us so much information on all of the sites.
Later in the semester, we took our spring break trip to Italy! We spent about ten days there and were able to travel to Rome, Florence, and Venice. Pizza, pasta, and gelato were essentials while traveling through Italy.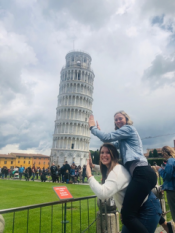 Being able to travel was probably my favorite part of studying abroad. Once the semester was over I stayed almost a month after to travel more of the islands. I was able to go to Paros, Mykonos, and Santorini. Each island was beautiful in its own way.
Greece is a country that will always hold a piece of my heart. I'm so grateful that I was able to have the experiences I did and will never forget my time spent in Athens.