Tubanji Walubita '19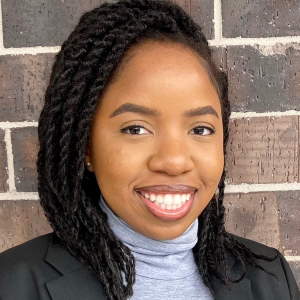 Class Year
2019
Area(s) of Study
Majors in Biology and
Gender, Sexuality and Women's Studies
Hometown
Lusaka, Zambia and Niles, Illinois
Current job
Clinical Research Assistant
University of Massachusetts
Graduate Study
PhD Global Health
Northwestern University
Accepted to multiple programs
What made you choose Lake Forest College?
When I first visited Lake Forest College, I was fascinated with all the exciting experiences and opportunities that would be available to me if I became a student. I chose to attend the College immediately after that visit. That initial visit introduced me to the small class sizes, research opportunities, incredibly accessible faculty, Chicago adventures, and close-knit campus community that I all came to experience and enjoy as a student at Lake Forest College.
How did a liberal arts education make a difference for you?
As a high school student, I expressed an interest in the sciences and the humanities. Having a liberal arts education in college allowed me to nurture my interests through pursuing a double major in biology and gender, sexuality, and women's studies. The liberal arts education aided in making my time in college highly useful, from being able to easily schedule the courses required for both my majors to self-designing my second major. The liberal arts education also emphasized interdisciplinary learning and the acquisition of a wide range of skills that I am currently able to use in the field of social epidemiology.
What experiences outside of the classroom do you think helped prepare you for your graduate program?
My first undergraduate research experience, being a part of the Richter Scholar Program during the summer following my freshman year, introduced me to the possibility of pursuing a research career. During the following summer, I participated in a population health research internship at Rosalind Franklin University. There, I gained and developed population health and epidemiology research skills, created my own research question and hypothesis, retrieved and analyzed data, and reported on my findings in a university-wide presentation. This fully immersive experience helped me confirm my interest in pursuing graduate study in epidemiology and introduced me to the kind of work I would be doing in a graduate program.
How did your time at Lake Forest College help you prepare to apply for your current professional position?
Lake Forest College allowed me to take diverse courses that taught me the fundamentals of being a scientist and a researcher. I learned how to ask critical questions, appropriately use the resources available to me, problem solve, develop knowledgeable answers, and present my findings to a wide range of audiences. Moreover, I gained specialized knowledge of certain skills and topics that I refer to regularly as part of my current position.
What do you think about the new Health Professions Program between Lake Forest College and Rosalind Franklin University?
I am very enthusiastic about the new Health Professions Program between Lake Forest College and Rosalind Franklin University. There are so many career trajectories related to healthcare, public health, and the sciences that many high school and undergraduate students do not know about. For example, when I first arrived at Lake Forest College, I did not know that I wanted to pursue a career in epidemiology. In fact, I didn't even have a clear understanding of the meaning of epidemiology! However, my time at Lake Forest College, as well as my research experience at Rosalind Franklin University, helped me to discover that a career in epidemiology was the perfect fit for me. The opportunities to explore, ask questions and have a variety of experiences in a supportive environment made all the difference for me in helping me choose my career path. My hope is that the new Health Professions Program will give students those same opportunities and support many of our future health professionals, researchers, and scientists in their many endeavors.
What skills and experiences at Lake Forest do you believe will help you be successful?
As a student at Lake Forest, I became very comfortable with giving oral presentations about my research, whether this occurred in a classroom or during a summer research experience. This level of comfort with public speaking and communication with others has made a tremendous difference in my success beyond my time at Lake Forest College because I am now able to present my research to fellow researchers and other audiences with ease. Additionally, while at Lake Forest College, I gained experience crafting documents such as a curriculum vitae, cover letter, and personal statements. These are skills I've used countless times when applying for employment or academic positions and skills that will be relevant and necessary for years to come.
What advice would you give a high school student looking to pursue pre-health and is considering Lake Forest College?
Lake Forest College is a wonderful place to honor your interests and goals while remaining open to the possibility of learning something new and gaining new experience. During my time at the College, I was able to take courses that were interesting to me while also fulfilling my requirements. Moreover, I felt encouraged and supported by faculty and my peers in achieving my goals. On the other hand, I was encouraged to step out of my comfort zone and challenge myself. This balance allowed me to pursue my interests and goals while discovering new ones - a vital process in developing long-term academic and career goals. In short, Lake Forest College will support you in your pre-health, public health, or science-related quests but will also challenge you to engage in new experiences that will strengthen your current interests or introduce you to all new ones.