Megi Diasamidze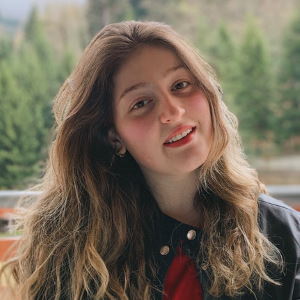 Class Year
2023
Area(s) of Study
Neuroscience Major, Philosophy Minor & Pre-Med
Hometown
Batumi, Georgia
Why did you want to conduct undergraduate research?
My hope was to gain hands-on experience, improve problem-solving skills and expand my knowledge in the neuroscientific field. In addition, I thought that this opportunity would help me to meet new people outside of the campus and make meaningful connections.
What research did you conduct at Rosalind Franklin University and why is it important?
Our lab focuses on the neural basis of an age-dependent decline in decision making and motor control. I was involved in the behavioral training of two groups of mice, young versus old, on the standardized IBL visual decision-making task. This research is important because the findings may be applied to the rapidly growth elderly population that struggles with living independently due to reduced capacity to perform basic day-to-day tasks. Most of these tasks depend on sound decision-making and motor control which are shown to deteriorate with age.
How has this research helped you grow intellectually and personally?
This opportunity sparked my curiosity about the research field as my career path. I have met people who have taught me new things in the research field and inspired me to continue pursuing my goals. Some of my personal characteristics have improved including time management, critical thinking, and professionalism. Most of all, this experience reminded me of something that I had forgotten- success takes time.
How has it helped you to strengthen and/or refine your career goal and what is your professional path ahead?
I wanted to become a doctor ever since I was a kid; However, difficulties associated with being an international student as an MD applicant in the US made me question my choice multiple times. This internship helped me strengthen my passion for medicine by observing profound connections between research and medical fields.
Would you encourage others to do undergraduate research? Why?
I strongly encourage everyone to get involved in undergraduate research regardless of the field of interest. This experience will help you understand more about your career-related as well as personal interests.