Study Abroad and Domestic Study Away
Notes from Abroad: Ericka in China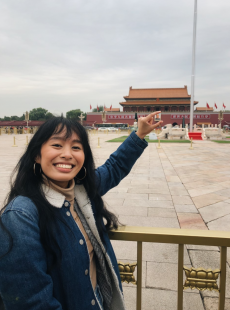 Ericka Vega '20, an International Relations Major with a minor in Mandarin Chinese, is studying at Peking University in Beijing, China
你好! My name is Ericka Vega, and I am a senior at the College majoring in International Relations and minoring in Mandarin Chinese. This fall semester I had the privilege of studying in Beijing, China at Peking University, China's match to Harvard. I chose the China Studies Institute (CSI) program because not only could I take courses that would fulfill requirements for my major, but I could also intern for a local Beijing company.
This semester I interned at the World of Chinese Magazine, an English online and print publication about Chinese language, culture, and society. As this internship was my first foray into the media sector, I feared my work wouldn't measure up, but all the research papers I have written for my LFC classes prepared me well. Creating and publishing weekly content on top of my other classes kept me extremely busy, but I also enjoyed the independence of writing articles about matters I truly cared about. I always felt my contributions to the magazine were valued, which made all my efforts worth it. Everyone at my office was kind and friendly, and I will definitely miss my co-workers and working for this company.  
Although I have been studying Chinese for over seven years and had visited the country once before, I still had difficulties adjusting to the culture just like everyone else. Chinese people often mistake me for being Chinese and expect I speak fluent Mandarin, so they often do not understand why I can't give directions to the library or why I stumble ordering a simple cup of coffee. Most of the time, I laughed it off and explained my Filipino American background, but the language barrier still frustrated me. However, in these last three months, my Chinese has greatly improved, and I feel much more confident expressing myself in Mandarin.  
Moreover, Beijing is quite different from Illinois—it seems that almost every corner of the city is loud and swarmed with people. I often missed Lake Forest's quiet campus and slower pace of life. Though, whenever I felt homesick, I knew I could fall back onto the incredible friends and teachers I have met through the CSI program. Much like Lake Forest College, the professors and staff genuinely care and want to get to know each individual student, so I felt right at home with them. I have also made life-long friends and precious memories that I will never forget. 
It is truly a humbling experience being able to learn firsthand China's rich culture and history and study among the brightest scholars in the nation. When I return to the States, I will miss eating baozi, walking around the lake on campus, commuting on the Beijing subway, bartering prices with Chinese locals at the markets, and so much more. I want to thank my family, friends, professors, and the Ingrid H. and George L. Speros Scholarship for supporting me through this transformative semester abroad in Beijing! 
News Contact
Alexandra Olson Coordinator of the Global Engagement Office
847-735-5231
aolson@lakeforest.edu