Lloyd King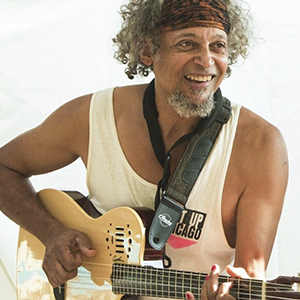 Lloyd Brodnax King is a composer, podcaster, and performer. He studied flute with Marcel Moyse, James Moody, and James Newton. He's worked with Fareed Haque, Larry Gray, Paul Von Mertens, Mark Walker, Jim Gailloreto, and Poi Dog Pondering. His awards include an NEA fellowship in jazz, an Illinois Arts Council fellowship for composition, and a Joseph Jefferson award for his score to Chicago Shakespeare Theater's Macbeth.

​After gaining recognition for his broadcast project, The Obscure News, he was hired to help Chicago Public Radio start their broadcast initiative, Vocalo.org.
​
​Currently Lloyd's writing tunes, interviewing people, and editing audio narratives for his upcoming podcasts. He performs regularly with Funkadesi, Michael J. Miles, the Other Brothers, the Sun Ensemble, and the Chicago Jazz Composers Collective.

​​Day jobs: Adjunct Professor of Music at Lake Forest College; dog-walker, cook, and handyman for the love of his life.