Yvette Ramirez '18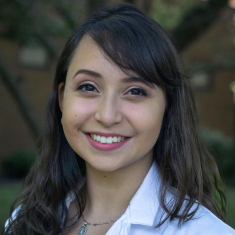 Class Year
2018
Area(s) of Study
Major in Biology Minor in Chinese
Hometown
Berwyn, IL
Graduate Study
DPT - Doctor of Physical Therapy
What do you think of the new Health Professions Program between LFC and RFU?
I think the new Health Professions Program sounds like an amazing opportunity that I wish I had when I was at LFC. I was introduced to RFU because of the summer research program at LFC, but the most impactful experiences I had there were because I searched for them on my own time. Now that there is a program for health professions specifically, more students interested in the health care field will be given more opportunities to learn about the different paths they can take. There is also the possibility of going to LFC for three years and being able to finish your DPT in 3 additional years. In a time when schooling is very expensive, I would have been extremely excited to get both of my degrees in a shorter amount of time.
What made you choose Lake Forest College?
I chose LFC because I knew I wanted to go to a small school where I would be able to have personal relationships with my professors. I felt like LFC had the environment I would need to succeed in and I also liked it's location and the financial aid I received.
How did a liberal arts education make a difference for you?
I wasn't entirely sure of what I wanted to do when I was deciding on what college I went to, so I liked that a liberal arts education would give me the option to explore different interests. I had been studying Mandarin for a few years, so going to a school where I knew I would be able to continue learning the language was important to me, especially since I knew I wanted to work in the health care field.
What experiences outside of the classroom do you think helped prepare you for DPT at RFU?
After my freshman year of college, I was able to do research at RFU's immunology labs thanks to the LFC-RFUM summer science fellows program. There, I realized that I wouldn't like to do lab research as a career. However, it was during this time that I was able to explore RFU's campus more. I was able to shadow DPT students in their anatomy lab and as they treated patients in their community clinic. While there, I learned that they were in need of volunteer interpreters to help at the clinic and was able to get involved in that role for the rest of the time I was at LFC. That experience helped me realize that becoming a physical therapist is what I really wanted to do. I decided to study abroad in Costa Rica during my junior year, and completed a research project related to physical therapy there. In general, these vital experiences I had outside the classroom while at LFC allowed me to explore the field I was interested in and develop a framework for the classes I am taking now in my DPT program.
How did your time at Lake Forest help you prepare to apply to DPT programs?
I was able to maximize the opportunities I was given at LFC so that when it was time to apply to DPT programs, I had unique experiences related to physical therapy that I feel other students didn't have. My career advancement counselor was also helpful even after I graduated and during the time that I was applying to programs. When I was offered an interview at RFU, I returned to campus for a mock interview and valuable feedback from my CAC as part of my preparation.
What advice would you give a high school student looking to pursue pre-health and is considering Lake Forest College?
If I were to give advice to a high school student looking to pursue pre-health, I would encourage them to an undergrad that offers opportunities for you to explore the field you are interested in. Pursuing a career in health care usually requires a large investment of your time and money so it's important that you are passionate about what you want your career to be. There are a lot of great health care fields you have the opportunity to explore, so I suggest you do just that. Take the time to use your college years to shadow and try not to have your mind set on one specific field right away.