Modern Languages and Literatures
Tuyen Tran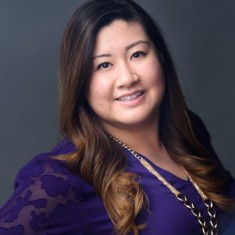 Class Year
2011
Area(s) of Study
International Relations, French majors & Business minor
Hometown
Chicago, Illinois
Internships
Version Originale, Groupe General Invest, Alzheimer's Association.
Current Job
President at Regal Assets
How did you explore your interests and decide on a major/majors? 
I have always been interested in business so that was my initial goal, however I really wanted to study abroad and having studied French in middle and high school, it was natural to continue studying French. Once I started taking French courses my sophomore year, there were many IR courses that also overlapped and caught my interest and that's how I ended up with majors in IR and French.
Studying abroad in Paris may not have defined my career path but I caught the travel bug that semester and I knew I wanted to do something that would allow me to travel. After college, I became a meeting/conference planner which has allowed me to travel to many places around the world – including Denmark, England, Malaysia.
More information to share?
What steps did you take at Lake Forest College to prepare for your career?
Networking! My first full time position out of college was working for the father of one of my best friends from Lake Forest College. The company started in France, so I was able to use some of my French language skills.
What would you recommend Lake Forest College students considering a career in your field do to prepare?
Networking – you never know who you will meet and how they may change your life. Along the same lines, learn how to embrace people who are different than you. Especially in our current political environment, it is important now more than ever to be culturally competent.
How did the Department of Modern Languages, other department, Career Advancement Center and/or the Forester community give you an edge on taking your first steps after graduation?
Not sure where I would be without my connections to the Forester community. Use the Career Advancement Center – I think I've actually contacted them more times after I graduated than while I was a student…
What have you found the most rewarding in your career and life after graduation?
I am very fortunate that I have been able to turn a hobby into a career. Starting my own real estate investment company has been rewarding because I get to connect with new people every day and it does not feel like work since I really enjoy what I do!