Rachel Collins '14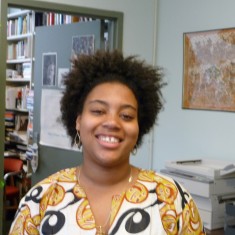 Class Year
2014
Area(s) of Study
History
Hometown
Chicago, IL
Co-curricular
United Black Association
Describe how you found your internship position.
I actually got my internship by emailing the Executive Director and asking. I had really wanted two internships and I had only secured one. I emailed her and got an interview the following week. It never hurts to ask, the worse thing a person can say is no!
What were your responsibilities at your internship? What did your average day at work look like?
I mainly worked on different projects for their upcoming events. Some days I worked on membership mailings; other times, I helped draft newsletters or menus for special events. There was a lot of writing involved, more than I had expected. I also did a lot of research. Whether it was combing through a book to find trivia questions or looking up company information to ask for donations, there was always something to do.
How did the internship enrich your history major?
I never knew a lot about the city of Lake Forest. Working at the Historical Society I learned about some of the locally famous places and some stories about the people of the city. As a history major, it was fun learning about this micro-history that is sort of hidden.
What did you gain from your internship?
As a Development Intern, I found it very useful to learn the ins and outs of a non-profit organization. The Historical Society is a three-person operation, so I was able to experience a wide range of tasks in the development field; from memberships to major donors to special events. This internship gave me a large skill set and also confirmed my career choice in development.