Modern Languages and Literatures
Patrick Nicholas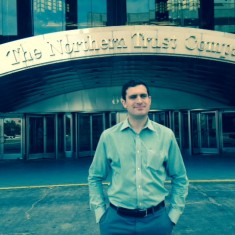 Class Year
2008
Area(s) of Study
Spanish and economics
Hometown
Beloit, Wisconsin
Co-curricular
Participated in theater productions; Writing Center tutor
Internships
Internship as a Research Assistant at ING Seguros (Insurance)
Junior year in Santiago, Chile Fixed Income Analyst Intern at Dolan McEniry Capital Management in Chicago immediately following graduation (where he was subsequently hired on full time)
Current Job
Technical coordinator for North American Corporate Actions
Since graduating from Lake Forest College and working in the field of finance, I've dealt with a vast number of banks and investment firms all around the globe. The ability to speak Spanish has facilitated many of the conversations I've had with agents working in Spanish-speaking countries. Even beginning a phone call with a single sentence in Spanish has, I've found, set a positive tone for the discussion. Additionally, I've felt a great sense of utility and even pride in being the 'go-to person' in an office to either translate financial documentation in Spanish or initiate a call to Latin America.
Do you have a favorite classroom memory?
I recall the first day of Intermediate Spanish with Professor Meneses my sophomore year. When she entered the classroom, she began giving the introductory lecture to the class entirely in Spanish. Spanish a total of one year, and felt wholly unprepared for an entire lecture in the language.  However, her diction and delivery were clear, and after the first couple of minutes of sheer panic, my trepidation gave way to confidence, as I realized "Hey, I actually understand this!"  At that moment, the prospect of learning Spanish went from being an intimidating challenge to an achievable goal. 
What is it about the Department of Modern Languages and Literatures that helped create where you are in life today?
My single greatest semester in college, by a wide margin, was the fall I spent studying in Santiago, Chile my junior year. Those months did more to shape my interests individuality, and independence more so than anything else I did in college, and I would unequivocally encourage any student studying foreign language to take advantage of a study abroad opportunity. The experience was so much more than learning a language: it was discovering another culture and cultivating empathy and understanding of other people. Much of my favorite music, food, movies, etc. relate to the Spanish language and understanding of Latin culture I developed while at Lake Forest College.
How has your liberal arts education taken you where you are today?
This is a clichéd answer, but the ability to think critically has contributed to both my personal and professional lives. I have spent most of the years since Lake Forest working as an analyst, and being able to not just read financial and legal documentation, but understand it and convey its meaning to both managers and clients, has served as a major asset in my work. I also feel that, in my personal life, I'm a more effective communicator because of my liberal arts education, not to mention the several prizes I've won at bar trivia nights that have no doubt been aided by what I learned at Lake Forest!
How is the work that you do related to your Spanish major?
I was a double major at Lake Forest: economics and Spanish. When discussing the importance of Spanish in my career, opportunities to speak and read the language have been prevalent since I entered the field of finance.