English and Creative Writing
Lydia Wells '15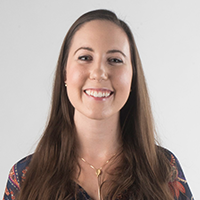 Class Year
2015
Area(s) of Study
Majors in Education and English
High School
Grant High School
Transferred From
College of Lake County
Current Job
Teacher at Lake Forest Academy
Lydia Wells '15 credits the training she received at Lake Forest College with preparing her to step into her role as a high school English teacher at Lake Forest Academy.
Why did you choose to attend Lake Forest College?
I chose to attend Lake Forest College for practical reasons. When I was going to the College of Lake County, I was living at home and also working two to three jobs. When I was looking for a college where I could finish my bachelor's degree, I wanted somewhere close so I could commute and the commute wouldn't be too long. Apart from being beautiful and having a great campus, Lake Forest College was close and offered all of the things that I was looking for—while still allowing me to work and live at home.
What was the single deciding factor that sold you on Lake Forest College?
When I interviewed on campus, I felt so welcome the whole day. From the students to the faculty, I felt like everyone was there to help me, to answer all of my questions, and to guide me. Meeting with the head of the English department—which was Associate Professor of English Ben Goluboff, at the time—was the deciding factor. He took about 45 minutes out of his day to meet with me. That doesn't happen at most places.
Did you feel welcome as a transfer student when you came to campus?
I felt very welcome as both a transfer student and as a commuter. There's a tight-knit commuter-student group that even has its own commuter lounge. There were always frequent group emails and a place for people to get together. I never felt different because I didn't live on campus. I was just another student.
What is your favorite memory of the College?
My stand-out memory happened during my first semester, the fall of 2013. My very first class was Jewish American Literature and the paper I wrote for the midterm actually was nominated and selected for Student Symposium in the spring. I felt so honored that my first class here after transferring was where I found my niche and my place within the College. In my second year, I presented another paper at Symposium. Being able to present my papers to other students, faculty, and the public was my favorite memory, by far.
Looking back, what do you find to be most valuable about your time at Lake Forest College?
Being able to double major, which was a requirement of the education program, because I was able to experience two separate departments. I got to see how they differed, but how they overlapped, as well. With a double major, I was able to connect with a large portion of the student body.
How prepared were you entering your field after completing your degree at Lake Forest College?
I felt so prepared graduating from Lake Forest College, because both programs are rigorous and challenging. It's time-consuming and stressful, at times, to double major, but I felt so prepared going out into the workforce and competing with other professionals. All of the time and effort I put in when I began working full-time as a teacher wasn't actually a big surprise, because I had already felt and experienced the need to work hard at Lake Forest College. I felt prepared and confident to be a teacher.
What was your favorite spot on campus?
I'm a library girl. I worked in libraries for about a decade before college and while I was attending Lake Forest College. There was this special little seat on the second floor of the library with the sun streaming in from the windows that really was my favorite spot on campus.
What advice would you give to a student considering transferring to Lake Forest College?
Definitely visit campus. You can look at the campus in a brochure and online and see that it's beautiful, but unless you're actually on campus you can't experience how truly great it is. The interview process and the whole day, where I was taken around met a bunch of different students and faculty, was by far the most beneficial thing I could have done in my entire college-search process.