Modern Languages and Literatures
Lily Starr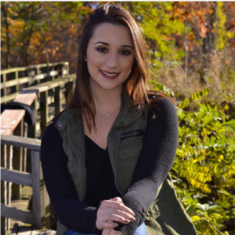 Class Year
2018
Area(s) of Study
Psychology and French double major
Hometown
Kansas City, MO
Internships
Children's Research Triangle and The Career Resource Center
Achievements
After graduation, I moved to Denver, Colorado with a full-time job and moved into an apartment with my best friend from Lake Forest College. When I was a freshman in college, I would have never imagined myself moving to a whole new city and working at large company. However, my education at Lake Forest College immensely expanded my self-confidence, cultural knowledge, and curiosity. Independence and personal growth are extremely rewarding!
Current Job
Supply Network Analyst, Danone White Wave (North American headquarters, Broomfield, CO), a French company, based in Paris, that produces Essential Dairy and Plant-based products, Waters, Early Life Nutrition, and Advances Medical Nutrition.
How did you choose your area of study?
My childhood and personal interests sparked my interest in a French and Psychology double major. I grew up traveling around quite a bit with my family. I was lucky enough to grow up with parents who spoke French and loved to visit France as much as possible. I started taking French classes in 4th grade and wanted to continue studying the language and culture for as long as possible. Additionally, my mom is a therapist and started her own private practice while I was finishing high school. Her passion for her work and strong connection with her clients inspired me to study psychology.
What did you think of the faculty?
My current job involves working with many different cultures, languages, and types of people, such as my boss who is French-Canadian. It is important to have a great deal of cultural competency, critical thinking skills, organization and clear/strong communication skills.
More information to share?
My first internship in college was completely research-based. I did not have much face to face contact during the day and it made me realize that I did not want to pursue a career doing analytical research. My next internship was very focused on the clients and their experience at the organization. I was able to work directly with people and hear about their experience at the center. This internship made me realize that I wanted to pursue a career that would allow me to work face to face with clients and solve problems on the spot.