Modern Languages and Literatures
Lauren Dalecky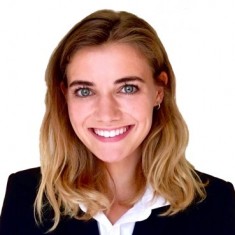 Class Year
2017
Area(s) of Study
Double Major: Chemistry and French
Hometown
Cedar Rapids, IA
Internships
Researcher at the Muséum national d'histoire naturelle
Graduate Study
Graduate School & Degree – Université Paris Saclay-Inorganic Chemistry; Université Paris-Est Créteil-Materials Chemistry in Cultural Heritage and the Environment
Current Job
Employer – Muséum national d'histoire naturelle, Centre de Recherche sur la Conservation  Position – Research Intern
How did you choose your area of study?
I came into Lake Forest College knowing that I was fascinated with chemistry and wanting it to be one of my majors. Since I had previously taken French in high school, I decided to continue my freshman year. I always enjoyed learning about the language and culture. Then, Lake Forest offered a great opportunity – a 5-month study abroad program in Paris where I was able to travel and be submerged in the language. The program also provided me with enough credits for a major which led to my decision to double major in chemistry and French.
What did you think of the faculty?
Lake Forest provided me with a few notable experiences that helped me prepare me for my current studies. The first opportunity was offering, then accepting me in the Richter Scholar program. In chemistry, I worked with Dr. Jason Cody, also passionate about French culture, doing chemistry research every summer. The second was studying abroad in Paris. Our group was well prepared by Professor of French Cynthia Hahn, by her will to educate and encourage us when we were not so comfortable speaking French. Once we were in France, we were able to visit many historical sites during our history course and work closely with our professor during our grammar and language course. Lastly, Lake Forest Swimming and Diving taught me how to be disciplined, responsible, organized and allowed me to grow.
More information to share?
Lake Forest College provides students with diverse classes so they can explore many interests they may have. For me, before and after deciding on my majors, I took classes outside my majors which applied to my overall growth. For my majors, my last two years of school were completely different experiences. My junior year I focused on French and my senior year I spent completing all my chemistry coursework. I kept a full course load my last two years, because I was excited about all the opportunities and classes that Lake Forest provided. I never closed myself off to the experiences that Lake Forest provides and tried my best to take advantage of every opportunity while I was there