Modern Languages and Literatures
Evelyn S. Bello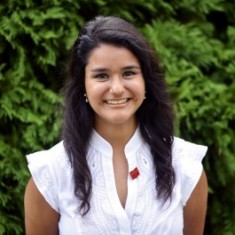 Class Year
2017
Area(s) of Study
Psychology and Spanish double major
Hometown
Cuernavaca, Morelos, Mexico
Internships
Stepping Stones Network & Zacharias Sexual Abuse Center
Achievements
McPherson Prize, Lake Forest, IL May 2017  Distinguishing award for academic excellence Tamara Lee Wefler Award, Lake Forest, IL May 2017 Award for that senior whose independent spirit has encouraged the acceptance of a diversity of values and beliefs within the student body; whose inspiration and enthusiasm have promoted the highest standards of character and integrity in others; and whose actions have consistently demonstrated a sensitivity for and an interest in the welfare of others Senior 25, Lake Forest, IL April 2016 Recognition for outstanding leadership, academic achievement, and service, setting a standard for upcoming generations of students at Lake Forest College Christopher C. Mojekwu, Lake Forest, IL April 2016 Award for promotion of intercultural dialogue and understanding
Phi Sigma Iota, Lake Forest, IL April 2016 International foreign language honor society Illinois Legislative Latino Caucus Foundation Scholar, Chicago, IL December 20 Scholarship granted to Latino leaders based on academic excellence and leadership Richter Scholar, Lake Forest, IL May 2014    Selective Program that allows undergraduate research Gates Leadership Scholar, Lake Forest, IL August 2013   Scholarship awarded to students demonstrating leadership commitment throughout their undergraduate education
Current Job
Bilingual Family Visit Facilitator at A Safe Place of Lake County
Describe a moment or experience you had in college that helped define your career path 
It is difficult for me to pinpoint one particular moment since there were many defining moments during my college experience that, little by little, directed me to where I am today. However, the very first experience that sparked an interest in me was the Richter Scholars Program that allowed me to further explore the portrayal of women in higher education. Not only did this Program open my eyes to the field of research, but it actually introduced me to how research can be used to understand and solve societal problems, such as domestic violence.
What steps did you take at Lake Forest College to prepare for your career?
The steps I took at Lake Forest College started in the classroom and led me to opportunities outside of it. Whenever I was given an assignment, instead of seeing it as something that I had to check off my to-do list, I saw it as an opportunity to gain the knowledge that I would, one day use to help out my clients. My professors at Lake Forest College were very approachable, so they made me comfortable talking to them whenever I wanted to. I developed very close relationships with them, and in addition to getting involved with volunteering, research, and internship opportunities on my own, they also became aware of my interests, and always directed and connected me to new opportunities.
What role did your internship or research experience (or study abroad) play in shaping your career path?
As I previously mentioned, the Richter Scholars Program was the start of my research experience. After this Program, I had the privilege of being mentored by Dr. Long as I researched Teen Dating Violence and interpreted the healing process of survivors of sexual assault through statistical analyses. My research experience definitely heightened my curiosity and passion for women's rights, and eventually led me to intern at Stepping Stones Network, an organization fighting human trafficking, and at the Zacaharias Sexual Abuse Center, a not-for-profit dedicated to end sexual assault and abuse.
What would you recommend Lake Forest College students considering a career in your field do to prepare? 
When it comes to the field of Spanish, I would highly recommend students know the language, and know it well. It is not enough to speak it. Make sure that you take the time to be fluent in your reading, and most importantly, in your writing. Take your time to fully grasp the grammatical aspects of the language. You will be surprised how many doors will open up for you if you know Spanish well. Sometimes the material will not be easy. Don't give up when you know you're stuck. Instead, break the material down. Take the necessary time to marinate in it in order to fully grasp it, and always ask questions to your peers, mentors, and professors whenever you feel like you still do not understand. Struggle with the material by yourself first, and then ask questions. By doing so, you will gain critical thinking skills. On another note, I also highly encourage you to be intentional about getting uncomfortable. Go and sit with a stranger during lunch, work with a classmate that does not look like you (you might end up marrying them), and finally, don't be afraid to share your true self with others. These are just a few tips that will strengthen your cultural competency, a skill that is certainly indispensable in life.
How did the Department of Modern Languages, other department, Career Advancement Center and/or the Forester community give you an edge on taking your first steps after graduation? 
I am blessed to say that my Forester community not only supported me during my four years at the College, but their support continued even after I had crossed that stage at commencement. While at the College, my Professors guided me to the knowledge, and my mentors went out of their way to prepare me professionally, either by helping me with my rèsumè, or by training me for interviews. Because of the close relationships I was able to develop with faculty and staff, I was fortunate that they felt comfortable writing letters of recommendation on my behalf . During my time at Lake Forest College, I definitely did my part, but I also recognize that my professors and mentors also did theirs, and my success is nothing more than the product of this collaboration.  
What have you found the most rewarding in your career and life after graduation?
I remember meeting several professionals telling me that work did not feel like "work" for them, and I always thought to myself, "Would I ever get to say that one day?", and that day has finally come. I love going into work loving what I do. As my day goes by, what I do is not a burden; I always find delight in it. It has truly been a fascinating experience seeing how all of my textbooks are coming alive. Oh, and not to mention, I love getting home from work with that feeling that I don't have to do any work at home. I can now use that time to do indulge myself in my hobbies.