Elin Alexander '15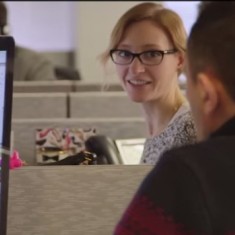 Class Year
2015
Area(s) of Study
Studio art
Minor in Digital Media Design
Hometown
Wilmette, Illinois
Co-curricular
Cross Country runner
Kappa Alpha Theta
In The Loop residence assistant
Internships
Rolling Stone Magazine
SPLASH Magazine
"Capitalizing on what I learned in college, in the internships, co-curricular activities and free-lance working with professionals, I was able to quickly adapt to a fast-paced work environment, learn new skills in web design, and know how to connect in the business environment. My experience at Lake Forest College was invaluable towards bringing my visual skills in a business setting."
How did you choose your area of study?
Going into college, I knew I wanted to focus on studio art because I see the world as visual. With the web and social media, everything is becoming much more visual in how we communicate and convey ideas. I interwove a Digital Media Design minor with the Studio Art major to have the best chances of using my art skills in a business setting.
There is a huge demand for graphic and web design work. I took every class possible to hone my skills toward getting a job upon graduation. I also volunteered my graphic design skills to gain experience, including designing shirts for the cross country team and posters for the Chicago International Hostel, where the In The Loop Program resides.
What did you think of the faculty?
I found a mentor in almost all of my professors. I found that they were invested in each student, gave challenging assignments, demanded a level of respect, courtesy and professionalism, thus giving me the tools to succeed at the College and thereafter.
What was your favorite class?
Two courses are most memorable because both propelled me out of my comfort zone. Both experiences has transcended to my work life to think outside the box.
First, I delayed signing up for the sculpture class until my senior year because I was unsure of my ability in 3-D art. Surprisingly, Professor Eli Robb's sculpture class taught me how to approach problems with a process. We would start by studying the art history in context with the sculpture project, followed by sketches and then we would be ready to begin the assignment. By having a well thought out plan, it allowed me to get time to get familiar with new mediums and content, a practice which use in my work today in website design.
Secondly, the Studio Art Senior Seminar was equally demanding for me to not fall into my regular patterns as an artist and to think outside of the box. Professor Karen Lebergott challenged me to completely step outside of myself when brain storming over the project, and would not accept only going part way. Being in this uncomfortable space has translated to my career as a web graphic designer perfectly. Since I never know who my next client will be, I have to conduct a quick assessment of their business and how to communicate their message in a web design. I would not be able to do this without this creative push from my professor.
What is your favorite part of Chicago?
The architecture and history, hands down. I recommend that everyone reads Devil in the White City to learn about the architects who built a new city after the Great Chicago Fire.
Why did you decide to study in the Loop?
The Loop is a fantastic program for Lake Forest College because it provides students with the opportunity to expand upon their area of study while experiencing living in a large city. I was in the Loop for two spring semesters and took classes at Columbia [College] and the Art Institute of Chicago to further broaden my growing technical skills in graphic design.
Chicago offers a surplus of cultural, history, business, and professional experiences. If you learn to understand what Chicago has to offer and take advantage of it while in college, it greatly helps you to adapt after college. This can become your most beneficial tool to attaining a jump on a successful professional life after college.
When I graduated, I did not think that I would have the same sense of community and connections as I had at Lake Forest, but I knew that Chicago offered a plethora of networking opportunities. I joined several Chicago clubs and organizations through my network because I knew that I would miss being a cross country teammate, a contributing art student and a "arts crafty" RA.
For example, to fulfill my longing to be a teammate again, I joined the Fleet Feet racing team in Chicago. To broaden my art network, I joined AIGA (American Institute of Graphic Arts), a national organization focused on graphic arts. Anyone can join groups such as these, which provide opportunities to connect with others, learn about different career paths, establish new mentors and learn about other skills that could be of interest to you. This is the best way cast a larger net to open doors to new exciting opportunities.
More information to share?
Know that you can be successful both in and outside of the office. Since graduating in the spring of 2014, I have completed two ultra marathons and plan to run my third before 2016 (The Huff 50k DEC '14 & The North Country 50 Miler AUG '15). Finding the right work life balance can help you to achieve a lifestyle that aligns with what makes you happiest.