Modern Languages and Literatures
Bridget Kies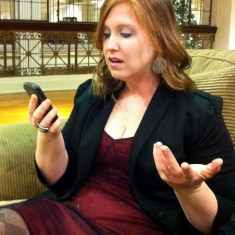 Class Year
2002
Area(s) of Study
French, Independent Scholar
Hometown
Kansas City, MO
Internships
Théâtre des Champs-Elysées, Paris; Goodman Theatre, Chicago
Achievements
One of my proudest achievements through Lake Forest College was receiving the Fulbright committee's recommendation for an English Language Teaching Assistantship through the French Ministry of Education, 2002-2003.
Graduate Study
MFA, Interdisciplinary Arts and Media, Columbia College Chicago, 2006 MA, Media, Cinema and Digital Studies, University of Wisconsin-Milwaukee, 2013 Currently completing PhD, Media, Cinema and Digital Studies, University of Wisconsin-Milwaukee
Current Job
Instructor, Film Studies and LGBT Studies at University of Wisconsin-Milwaukee
How did you choose your area of study?
I studied French for four years in high school, so it seemed logical to continue in college. When I became more interested in theater than language, I met with Professor Cynthia Hahn, my advisor, one afternoon to tell her I wouldn't be pursuing a degree in French. I brought her a skim latte to ease the blow. She accepted the coffee but not the news. Shortly thereafter, I was enrolled in more French classes and planning to study abroad in Paris the following year. I have no regrets and only gratitude that she steered me in this direction!
Describe a moment or experience you had in college that helped define your career path.
During the study abroad program in Paris, I had the opportunity to intern at one of the most historically significant and prestigious theaters. My experience at the theater, however, was limited to non-creative work. It felt disappointing at the time not to be more involved in the production process, but two great things came out of that semester. First, I learned far more about arts administration than I had anticipated, and this helped me to start my own performance group, run my own nonprofit organization, and produce several stage plays and countless special performances. Second, I fell in love with the city of Paris and learned that I could live on my own, far from home. That led to returning to France after graduation for a teaching position. And that led to making friends of countless nationalities, more travels abroad, and myriad personal and career opportunities.
What steps did you take at Lake Forest College to prepare for your career?
Study abroad, internships, and close relationships with my advisors were the more important things I did to prepare for a career after graduation.
What role did your internship and study abroad experience play in shaping your career path?
I am now pursuing a PhD in media studies, and although that seems like a deviation from the path I began at the College, it is not. It is the direct result of my experiences at Lake Forest helping me to discover who I am and what I am meant to do in this life. Knowing a second (or third or fourth) language opens doors. It is a requirement for most PhD programs. It has also enabled me to work for many years as an English as a foreign language instructor, which has led to more travel abroad and more intercultural friendships.
Traveling abroad and working closely with students from other nations have given me a global perspective that has shaped my politics and understanding of culture. It has even made me better able to connect with Americans who come from different backgrounds and experiences than I do.
What would you recommend Lake Forest College students considering a career in your field do to prepare? 
Learning a foreign language is not like studying something quantifiable that can be memorized and regurgitated. I highly recommend studying abroad. And when you study abroad, immerse yourself in the culture. Use only the native language, even with your American friends. Don't be afraid to let the experience profoundly change you.
How did the Forester community give you an edge on taking your first steps after graduation?
I was fortunate to have advisors in both majors who took a deep personal interest in my success. Uncertain as to whether I should attend graduate school and whether I wanted to pursue arts administration or creative work, I opted to apply to a program to teach abroad. The modern languages and literatures department and the College helped me put together an application for an incredibly competitive program. I lived in Longjumeau, just south of Paris, where I taught English at a high school. In my free time, I was a member of a club for international students and recent graduates, where I performed in plays, took history classes, went on excursions to various parts of France, and made friends from around the world. I wouldn't have thought to do any of this without the encouragement I received from Modern Languages, from Cynthia Hahn (my French advisor) and from the many faculty I had gotten to know who took an interest in my success as a French major but also as a person.
What have you found the most rewarding in your career and life after graduation?
I have now been teaching for eleven years, ten of them of at the university level. I delight in the daily interactions with my students. I am fortunate to travel around the United States and abroad presenting my research and making new friends. My love for academia was kindled by the great experiences I had with faculty at Lake Forest College.