Ally Bain '12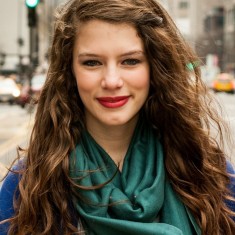 Class Year
2012
Area(s) of Study
Major: Communication
Minors: Politics and Legal Studies
Hometown
Vernon Hills, Illinois
High School
Vernon Hills High School
Co-curricular
Commuter Student Organization, Co-Founder and President
Internships
United States Department of Justice, Civil Rights Division and Disabilities Rights Section, Investigative Assistant Intern United Way of Lake County, Marketing and Communication Intern
Achievements
Named on of Glamour's Top Ten College Women in 2011 Lincoln Academy of Illinois Student Laureate Richter Scholar Senior 25 Grace Elizabeth Groner Fellow
Graduate Study
Northwestern Pritzker School of Law, May 2016
How did you choose your area of study?
Before attending Lake Forest College, I had experience helping to draft and testify in support of state legislation called the Restroom Access Act or Ally's Law. From that experience, I discovered how much I enjoyed advocating for important causes, participating in the legislative process, and public speaking around the country. My decision to major in Communication and minor in Politics and Legal Studies while at Lake Forest College came from those passions and interests.
I decided to further my career aspirations by attending Northwestern Pritzker School of Law so I could use a law degree to strengthen my efforts in advocating on behalf of others as well strengthen my skills in reading, writing, and critical thinking.
What did you think of the faculty?
Lake Forest College has some of my all-time favorite professors, and I, fortunately, still keep in touch with many of them. The faculty are gifted in their way of teaching the material and in their way of making themselves available during office hours to speak with students. I am grateful for every professor I met while at Lake Forest College and have great memories of those professors and the classes they taught while I was there. Some of the professors who made an especially positive impact are Professor Levis, Professor Park, Professor Rosswurm, Professor Iden, Professor Boden, and Professor Orogun.
What was your favorite class?
It is difficult to choose just one class because I really enjoyed so many of the classes I took at Lake Forest College. I truly believe that the material and the way that the professors taught that material helped prepare me really well while at school and after I graduated. Some of the classes that come to mind when I try to choose a favorite include: Foundations of the American Republic, The Fourteenth Amendment, The Presidency, Rhetoric and Speech, Modern Media History, The Judiciary, Race and Politics in the Age of Obama, Civil Liberties, News Media and Society, and American Constitutional Law. 
More information to share?
I am extremely grateful for everything that the Grace Elizabeth Groner Foundation did for me while I was a student at Lake Forest College and even after I graduated. I would not be where I am today had I not had the fortune of working with a Foundation that is so selfless and so motivated in its efforts to provide students with internships and fellowships that further the students' passions, interests, and goals. The support that I received from the Foundation helped shape my education and career into what it is today. Lake Forest College students and alumni are lucky to have such a supportive network.