2019 Glassman Brain, Mind, and Behavior Symposium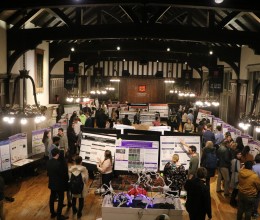 The seventh annual Robert B. Glassman Memorial Brain, Mind, and Behavior Symposium—featuring the most-ever posters of original research by students and alumni—will be held from 5 to 8:30 p.m. on Thursday, November 7.
This unique symposium is a highlight of the College's award-winning Brain Awareness Week on campus Monday, November 4 through Friday, November 8.
The Glassman Symposium will begin with undergraduate research poster presentations by current students and recent alumni from 5:00 to 6:40 p.m. in Calvin Durand Hall. More than 40 presentations will feature the work of over 60 students and alumni who are conducting research at Lake Forest College and several medical schools.
"This is the perfect place for students to get exposure presenting their research in front of an audience," said Synapse co-president Lesli Gonzales '21, one of the student organizers. "I encourage those who attend the poster session to listen to multiple poster presentations and ask questions, because it tends to stimulate very intriguing conversations."
During the symposium, Lake Forest art students will inaugurate a set of sculptures they created that depict the national neuroscience undergraduate education and outreach theme for 2019–20: Brain/Machine Interface.
This session will be followed by a set of faculty and alumni talks that are intentionally interdisciplinary. This year's topics will focus on the understanding on how the spinal cord controls movement, how scents during sleep can strengthen associated memories, the philosophy of reason being able to change minds, going beyond the five senses, and how the prefrontal cortex develops control over emotional processing during adolescence. The talks will be held from 6:50 to 8:30 p.m. in Lily Reid Holt Memorial Chapel.
The following lectures will be presented:
"The Prefrontal Cortex Develops Control Over Emotional Processing During Adolescence"—Ryan Selleck, lecturer in neuroscience
"Beyond the Five Senses"—Margot Schwalbe, assistant professor of biology
"Will Reasons Change Minds?"—Paul Henne, assistant professor of philosophy
"How Scents in Sleep Strengthen Associated Memories"—Laura Shanahan, postdoctoral fellow, Department of Neurology, Northwestern University
"Understanding how the Spinal Cord Controls Movement: Fishing for Answers"—Saul Bello Rojas ´16, PhD program in neuroscience, Washington University in St. Louis
The Brain Awareness Week Faculty/Student Symposium was renamed the Robert B. Glassman Memorial Brain, Mind, and Behavior Symposium in 2013 in honor of the late Professor of Psychology Robert Glassman, who played a leading role in developing Lake Forest's popular neuroscience major.
"As far as I can remember, Bob Glassman has been the greatest champion for neuroscience at Lake Forest College," Lake Forest College Disque D. and Carol Gram Deane Professor of Biological Sciences Shubhik DebBurman said. "It was his vision to teach the relevance of neuroscience to students and the larger community in the broadest of strokes. He cared deeply that we appreciated the relevance of this burgeoning academic field to our everyday lives. I think he would appreciate how we have honored him."
The Glassman Symposium and all Brain Awareness Week events are free and open to the public.
—Peter Dipietro '20
Related Links: