Tribune turns to Desmond Odugu for expert insight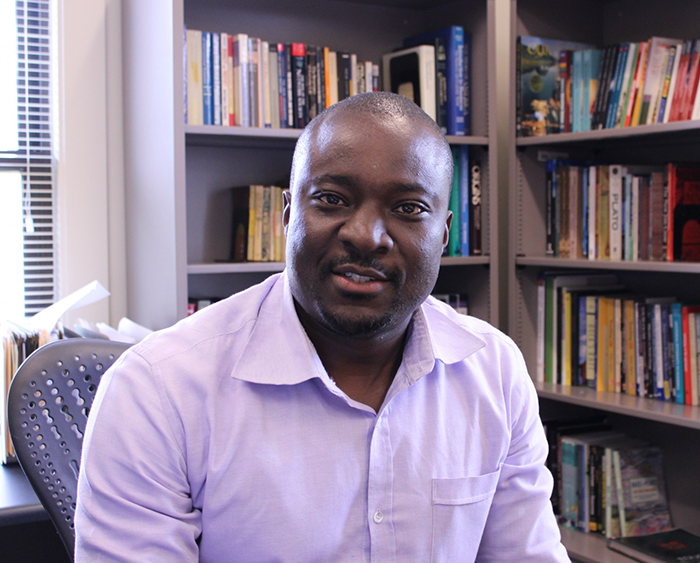 The Chicago Tribune turned to Associate Professor of Education Desmond Odugu for his insight on housing discrimination in its coverage of a breaking discrimination news story in a Chicago suburb.
As part of the Mellon-funded Digital Chicago study at Lake Forest College, Odugu researched housing discrimination in the Chicago area for his project,"Restricted Chicago: Housing Discrimination and Educational Inequities in Urban America."
Here is the complete Chicago Tribune story:
Teens are leading an effort to rename a Kenilworth school
Karen Ann Cullotta | Chicago Tribune
June 23, 2020
Walter Calhoun and Laura Calhoun Thomas vividly remember the night a cross was burned on the front lawn of their family's Kenilworth home in the mid-1960s.
"It was stark, blatant and shocking," recalled Thomas, the eldest sibling in a family of four children.
But Thomas, 68, and Calhoun, 62, say using the event in a petition to rename the school they both attended doesn't place it in its proper context. Both say the truth is more complicated, and the reception they got as a family believed to be the first Black people to move to the white, affluent North Shore town was often warm.
"I can talk for hours about Kenilworth … I had wonderful experiences for the entire 12 years I lived there," said Calhoun, now a Highland Park resident who remembers playing baseball and football, serving as student-council president and hanging out with neighborhood friends with whom he still remains close. "When we moved to Kenilworth, I was a first-grade boy who loved sports, and who was very social, so for me, it was a match made in heaven."
Calhoun, a retired attorney, said he is sharing his experiences in the town after learning that both his family and the cross-burning have been mentioned in a petition to rename his alma mater, Joseph Sears School, in connection with allegations that Kenilworth founder Joseph Sears was racist and anti-Semitic.
The petition, launched earlier this month by Wilmette residents Jack Yonover, 18, and Solomon Podorovsky, 17, points to the cross-burning as an example of the village's racist history, something they see as begun by Sears.
One of the teens involved in the petition has suggested a member of the Calhoun family may be a potential new namesake for the school.
Yonover and Podorovsky, Class of 2020 graduates of New Trier High School who are both Jewish, said they started their petition after reading a local account that alleged Sears held both anti-Semitic and racist views.
The accusations they read were from the book "Joseph Sears and His Kenilworth," first published by the Kenilworth Historical Society in 1969.
Officials at the Kenilworth Historical Society said Sears, who died in 1912, is falsely portrayed in the petition as having created Kenilworth as a "sundown" community, a historical term for all-white towns or neighborhoods that used intimidation, threats of violence or restrictive rules to keep non-whites out.
"There were no racial or religious restrictive covenants in Kenilworth during Joseph Sears' life," officials said in a statement, saying that the book by Colleen Browne Kilner has "many inaccuracies."
The book's author is dead and not much is known about her or her research methods.
Desmond Odugu, a Lake Forest College associate professor of education, is an expert on housing discrimination and says confirming any allegations against Sears regarding Kenilworth's founding likely will prove challenging.
And while Calhoun, a community volunteer and activist, said he appreciates the teens taking a stand against racism, he objects to the use of the cross-burning as a way to characterize his experience in Kenilworth. Cross-burnings have a long history associated with violent racism, intimidation and white supremacist hate groups like the Ku Klux Klan.
"I was not traumatized by the cross-burning, and I would be a rich man if I had a dime for every neighbor on our block who came out of their houses to say how disgusted they were that this had happened and who helped put out the fire," said Calhoun, who is involved in the Black Lives Matter movement.
Calhoun said that a few years after the cross-burning, his father, the late William Harold Calhoun, met with two white Highland Park youths who confessed to having been responsible. He said the teens wanted to apologize to his father, an attorney for the U.S. Immigration and Naturalization Services.
The boys, Calhoun said, "had real regrets. My dad was a very kind and gentle man, and he comforted them, and we all moved on."
The teenagers who started the petition to rename Sears said their intent was to show how racism on the majority-white North Shore has deep roots.
"I'm glad to hear that Mr. Calhoun had some great times in Kenilworth, but our primary goal is to raise awareness about these issues, and the petition has done that," Yonover said, after learning that Calhoun was dismayed by the petition's portrayal of his family.
"If we turn out to be wrong, I'd still encourage a deeper dive into the research, but either way, overall, we've received a lot of support for our petition," Yonover said.
As of Tuesday, more than 3,800 people had signed the online petition.
Calhoun said his Kenilworth neighbors could be strong allies, including when an instructor suggested he could not participate in the children's ballroom dancing recital at the Kenilworth Club, which prompted his mother, the late Chicago Sun-Times journalist Lillian Calhoun, to alert the other mothers that her son was being shut out of the show.
"When the mothers heard what happened, they all called the instructor and told her, 'If Walter can't dance, we're not letting our children dance,' and the next day, I got a golden invitation," he said.
His sister, Thomas, of Chicago, said she was 13 when the family moved out of their three-story, Hyde Park mansion and into a much more modest home in Kenilworth.
"I was pretty disappointed when I saw our new house, and it was hard to uproot myself from my little nucleus of neighborhood friends in Hyde Park, who were mostly from Jewish families," Thomas said.
Thomas said she recalls her parents referring to "machinations" they went through as the first Black family to buy a home in the village, as well as a woman apologizing to her mother and explaining that, while it was not her choice, she and her husband would be among the handful of neighbors who had decided to put their homes up for sale shortly after the Calhoun family moved in.
She does not recall facing any racism at Sears, where she completed eighth grade, and found the overall experience to be "pretty uneventful."
As for the petition's allegations about the town's founding, research done by the historical society has so far not found any document restricting property ownership based on race or religion.
After examining 70 property deeds from the 1890s through the 1940s, and covering every major Kenilworth subdivision, historical society officials said their research showed that during Joseph Sears' lifetime, there were only four restrictions found on land that was sold.
Those restrictions banned the sale of intoxicating beverages, outlined minimum building setbacks and costs, and established rules on the location of stables.
But racial or religious restrictions did in fact appear in Kenilworth deeds starting from the 1920s, after Sears was dead, officials said.
"Challenging how we view the past, how it has affected the present, and what we can stand to learn from it are perhaps the most fundamental applications of history," the Kenilworth Historical Society said in a statement. "In order to do so effectively, we must be able to understand and distinguish the facts from what is undocumented."
The use of deeds and plats of subdivision to support racial restrictions were once commonplace nationwide, including in suburban Cook County, said Lake Forest College's Odugu.
The effort investigated and documented the history of restrictive racial covenants, a housing discrimination strategy and legal tactic used across the nation to prevent African-Americans and other racial, ethnic and religious groups — including Jews, Hispanics and Asians — from purchasing or living in homes in white neighborhoods or subdivisions covered by the covenants, Odugu said.
"What was striking to us was that this was a common practice, and we found 220 subdivisions in the Chicagoland area from 1923 to 1948 that used this kind of language," Odugu said.
Public documents from this time featured statements such as, "No part of real estate hereon described shall be conveyed or leased to any person who is not of the Caucasian race."
The enforcement of racially restrictive covenants was legally challenged in a 1948 Supreme Court case, but their use continued for decades and some did not expire until the 1980s, Odugu's research found.
Odugu said he has not specifically researched Joseph Sears and his founding of Kenilworth, but the road on such journeys has many potential speed bumps.
"If we're changing the name of a school because someone might have been a so-called 'bad actor,' well, if you went on that journey in American society, the clean-up would be a daunting task," Odugu said.
According to Illinois School Report Card data from 2019, Sears school enrolls 481 students in kindergarten through eighth-grade, with 88% of students being white, about 4% biracial or multiracial, 3% Asian, 3% Hispanic and about .8% Black. No students at Sears school were considered low-income, while about 49% of the state's students were categorized as low-income in 2019.
Officials at District 38 said they applaud students who are analyzing the issue and plan to continue to publicly address the concerns raised.
"Moving forward, the board will listen to and participate in productive dialogue with our community as they examine the history of Joseph Sears and Kenilworth," a news release said.
Calhoun said he is troubled that the teens' petition casts aspersions against the school's namesake without supporting documents or direct evidence.
"I have too much respect for the truth, no matter where it lies," Calhoun said. "I want Kenilworth residents and the children in the school to decide this issue."
Thomas agreed, saying the renaming decision should remain in the hands of the local community.
"A petition is an all-American groundswell, but I hope any decision made is done thoughtfully," Thomas said.