Shubhik DebBurman receives Distinguished Mentor Award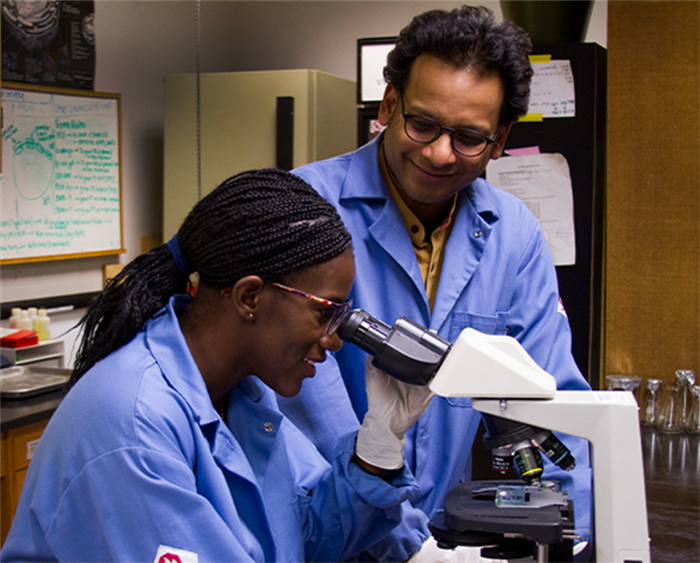 Disque D. and Carol Gram Deane Professor of Biology, Biochemistry & Molecular Biology and Neuroscience and Chair of Neuroscience Shubhik DebBurman received the 2023 Faculty for Undergraduate Neuroscience (FUN) Distinguished Mentor Award at the 2023 national Society for Neuroscience (SfN) meeting in Washington DC on November 12.
FUN, an international organization supporting neuroscience research and education at the undergraduate level, announced its award winners at Neuroscience 2023—the annual meeting of SfN scientists from around the world who congregate annually to discover new ideas, share their research, and experience the best the field has to offer.
"Being recognized by my peer community at the national level for mentoring undergraduates, graduate students, postdocs and young faculty is especially meaningful to me, as this is what I do every day as part of my work as a teacher, scholar, and community citizen," DebBurman said.
Since 2001, DebBurman has directly mentored over 100 undergraduates in his Parkinson's disease research lab at theCollege, most of whom have headed for diverse postgraduate careers. He has also provided research opportunities to over 200 others through the LFC-RFU Summer Research Scholars Program that he founded in 2010 and still directs. He has also mentored 17 PhD students and postdoctoral trainees from other Chicago area institutions in undergraduate teaching, many of whom are now faculty at small liberal arts colleges and larger institutions. He serves as an official mentor of junior faculty through mentorship programs administered within multiple national professional societies.
"I would not be where I am today without the incredible mentorship from Dr. DebBurman." —Tracey Nassuna '23, PhD student at the University of Chicago
"Dr. DebBurman is a fierce advocate for collaborative student-faculty research," Associate Dean of the Faculty and Professor of Psychology Matthew Kelley said. "Dr. DebBurman was worked tirelessly to provide research opportunities for students, both at the College and with partners such as Rosalind Franklin University of Medicine & Science."
Tracey Nassuna '23, a PhD student at University of Chicago, appreciates the ongoing mentorship she has received from DebBurman since taking her first neuroscience class at the College.
"I would not be where I am today without the incredible mentorship from Dr. DebBurman," she said. "His guidance did not just stop with research, he also supported me through my PhD application process."
Nassuna describes DebBurman's mentorship style as a balance between hand-on and hands-off supervision.
"He encourages autonomy while readily availing himself whenever anyone in the lab needs help," she said. "Dr. DebBurman is committed to fostering connections between lab members."
In addition to weekly lab meetings, Nassuna noted that DebBurman annually brings together current and past members of his lab.
"A testimony to his long-term influence is that multiple former lab members attend every year and share how his mentorship continues to positively impact their lives," she said. "In fact, Dr. Deburman is still in touch with his very first lab members who continue to share their lives' milestones with him."
The 2023 Mentor Award is not the first FUN award for DebBurman. In 2019, he earned the professional organization's Career Achievement Award.
Related Links: