Richter scholars work with professors on summer research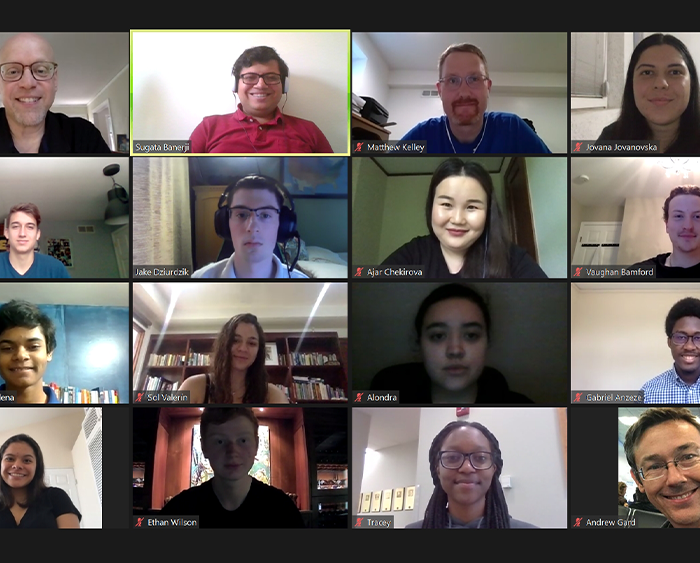 Despite the COVID-19 campus closure, 28 rising sophomores are conducting research this summer with 31 faculty members as part of the College's signature Richter Scholar Program.
The Richter Scholar Program is a unique Lake Forest opportunity for qualifying first-years to research alongside professors over the summer. Traditionally, this is a residential program during which the students develop a strong community bond among each other and their professors.
"Things radically changed this year, but we still have a high level of participation by faculty and students," said Associate Professor of Politics James Marquardt, the director of the Richter program.
Professors used video-conferencing and virtual collaboration apps to "fulfill our objectives of faculty-student collaboration and building a community of young scholars at Lake Forest College," Assistant Professor of Politics Ajar Chekirova said.
To share his research opportunities with even more students, Professor of Psychology Matthew Kelley expanded his research project, "Counterintuitive Cognition," to five students with exciting results. "In four weeks, we were incredibly productive. Our team ran five professional-level experiments and submitted a conference abstract for a national conference," Kelley said.
His student team, the "Cognition Quintent," was spread across the globe, with students in Turkey, Costa Rica, Canada, Indiana, and Illinois. They Zoomed daily and worked together on shared documents using OneDrive.
"I learned a lot about the process of research and think this whole experience has been very enriching," one of Kelley's researchers, Sara Martinez '23, said. "The skills I learned will be applicable for my professional career goals in marketing."
Gabe Anzeze '23 worked with Associate Professor of Education Desmond Odugu this summer researching "Africa in Films: Language Education and Development."
"The Richter Scholar Program has allowed me an intellectual space through which I was able to engage in meaningful conversation and enhance my research techniques under stellar mentorship of our professors," Anzeze said. "It was worth every single minute."
With a goal of graduate school and making a positive contribution to existing literature in the fields of politics and economics, Anzeze said the Richter program "has definitely motivated me and given me critical insight into what such research would involve."
Twenty students whose research projects could not be completed remotely this summer, including the on-campus natural science lab research, deferred to the summer of 2021.
Here's a list of this summer's Richters—all rising sophomores—and their research projects:
Option 1 (four-week program):
Anish Abeysiriwardena '23 with Assistant Professor of Politics Ajar Chekirova: "China's New Silk Road Projects in Central Asia"
Richard Jinschek '23 with Assistant Professor of Computer Science Sugata Banerji: "Diagnosis from Medical Images"
Ethan Wilson '23 with Assistant Professor of Mathematics Andrew Gard: "Effects of measurement errors on deterministic interpolants"
Deniz Akpinar '23, Vaughan Bamford '23, Sara Martinez '23, Tracey Nassuna '23 and Madison Stevens '23 with Professor of Psychology Matthew Kelley: "Counterintuitive Cognition"
Josie Lafayette '23, Spencer Nassar '23 and Katie Osborne '23 with Associate Professor of Psychology Susan Long: "Voicing Survival: Stories of Human Trafficking"
Jake Dziurdzik '23 and Marisol Valerin Coronas '23 with Associate Professor of Politics James Marquardt: "Obama and transparency and openness in government: A case study of soft power"
Lily Marshall '23 with Assistant Professor of Philosophy and Politics Chad McCracken: "What Berkeley Saw"
Gabe Anzeze '23, Jovana Jovanovska '23 and Piero Sebastian Torres Marruffo '23 with Associate Professor of Education Desmond Odugu: Africa in Films: "Language Education and Development"
Nafissa Bounia Yahaya '23 with Assistant Professor of Finance Dimitra Papadovasilaki: "Behavioral and Experimental Finance and Economics"
Kelsie Jackson '23 and Olivia Stensberg '23 with Assistant Professor of Education Jacquelynn Popp: "Am I a 'Normal' Kid? Analyzing Underlying Messages of Power and Cultural Hegemony in Youth Texts"
Alondra Velazquez '23 and Jack Curtis '23 with Assistant Professor of Art David Sanchez Burr: "Modeling the Everyday: Creative Concepts for Digital 3D Production in the Arts"
Grace Glaszcz '23 with Assistant Professor of French Tessa Sermet: "Global Science Fiction"
Option 2 (10-week program):
Ahmed Ismail '23 and Vitoria Andrade Carnier '23 with Assistant Professor of Finance Muris Hadzic: "Wealth and Income (In)equality in the US: Trends and potential remedies"
Nelli Vardanyan '23 with Assistant Professor of Mathematics Arthur Bousquet: "Statistical Methods and Machine-learning Algorithms II"
Karla Perez '23 with Assistant Professor of Philosophy Paul Henne: "Recency Effects in Causal Judgment"
Tebatso Duba '23 with Associate Professor of Education Desmond Odugu: "Restricted Chicago: Housing Discrimination and Educational Disparities in the Chicagoland Area"