Five students, Vivian Ta present research at psychological association conference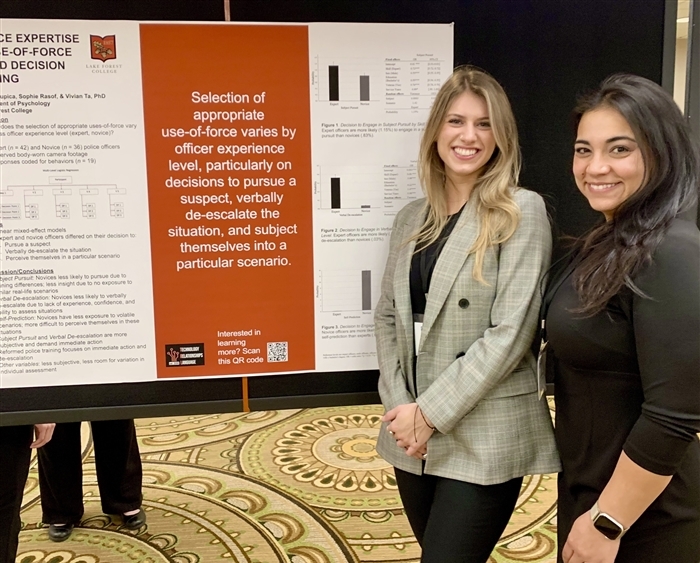 Lake Forest College had a notable presence at the 2022 Midwestern Psychological Association (MPA) annual meeting in Chicago with research presentations given by five students in the Technology, Relationships, and Language Lab and Assistant Professor of Psychology Vivian Ta delivering an invited talk.
The MPA convenes annually to share research across all areas of psychology through invited talks from leading psychologists across the United States as well as papers and posters addressing a wide range of topics in current psychological science.
Ta was invited to present her talk, "Public Perceptions of the Police: Trends Across 2020-202" at the annual meeting that is open to psychologists, students, and members of the public. The conference was held April 21-23, 2022.
In the poster sessions, Lake Forest College students presented their research alongside graduate school students and PhD candidates:
Carolynn Boatfield '22 and Amelie Motzer '24 presented "The Initiation and Development of Human-Social Chatbot. Interactions"
Sophie Rasof '22 and Isabel Krupica '22 presented "Police expertise in use-of-force rapid decision making"
Wiktoria Pedryc '24 presented "What does it mean if we are dating? Investigating modern lay definitions of dating"
Motzer, a double major in psychology and neuroscience, found the opportunity to attend the professional conference and present her research in person to be an "amazing experience" that will help her with graduate-school applications.
"I want to do a PhD in clinical psychology, and I think this will increase my ability to get into graduate school, especially since we're trying to get the research that I presented published," Motzer said. "This was also a great opportunity to connect with professionals in the field and talk with people who are doing PhD programs right now or who are in grad school. To be able to share my research and discuss it with others in the field who actually know aboutthe research was interesting. It also was interesting to see how other people could see what the future direction this study could take."
Motzer, a commuter student, initially heard about Ta's research and research lab opportunities from a Forester friend.
"I went to a lab meeting, met Professor Ta, and asked if I could join her lab," Motzer recalls. "This is how the whole journey started." The MPA conference "was an amazing opportunity that Professor Ta made possible."
Related Links: