Lubasi Sikwibele '24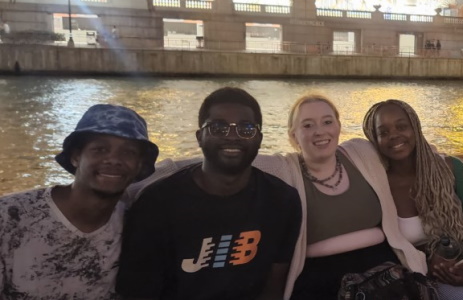 Class Year
2024
Area(s) of Study
Major in Data Science Minor in Business and Entrepreneurship & Innovation
Hi, I'm Lubasi Sikwibele, and I participated in the ACTIVATE: Summer Internship Program in the South Loop of Chicago. This has been an incredible opportunity and a huge learning experience for me. Alongside being able to really explore the city, a highlight has been taking walks along Chicago's lake front and riding a bicycle through the streets in the warm summer sun.
One of the best things about Chicago is the sunrise by the pier. Yes, I know sunsets are amazing, but if you have the will power to wake up early you get the chance to experience one of the best sunrises in the world! As they say, the early bird gets the worm. I really enjoyed my internship in particular. While it was full of many challenges, I found my work really fulfilling and intellectually stimulating. Every day I had to apply myself in unique ways and adopt to the challenges of the day.
One of the most difficult things I had to learn how to navigate was the city's public transportation system. I have always watched with awe and fascination at the ease with which local Chicago residents moved around the city without a regular vehicle. The College provides all ACTIVATE participants with a CTA U-Pass, I would also recommend riding around the city on a bicycle. Lyft provides bicycles at an affordable rate and it is a great way to feel immersed in the streets of Chicago.
One piece of advice I would give to those interested in exploring Chicago is to get lost responsibly. Half of my experiences have been looking at Google Maps and taking a wrong turn. It's initially concerning but once you take the time to breath and re-evaluate your location, you can find your way again. The best part, though, is that you have now increased your awareness of your location and you have an experience that you will never forget!
This experience has made me more independent and exposed me to a way of living I have never had before. I would like to extend my gratitude to the Center for Chicago Programs and Chicago Program Coordinator Tanesha Fowler who has been supportive during my transition and also given me some of the best tips and advice for navigating the City of Chicago.